Non-meetable character
This article is about a character on Club Penguin that cannot be met as a mascot.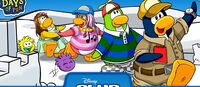 The characters of the 101 Days of Fun event consist of two girls and two boys.
Appearances
They appeared in advertisements for the 101 Days of Fun, both in login screens and in the Club Penguin Times. In one case, they appeared in the Adventure Party ad. They also appeared in a few wallpapers from the Community section of the Club Penguin website. They are all featured on a card in Card-Jitsu.
Outfits
Gallery
Characters
Other