Not the article you were looking for? Check the disambiguation page.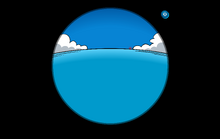 The Beacon Telescope, commonly known as the Telescope, is a telescope located at the Beacon that is pointed towards the sea. The primary use is for spotting Rockhopper's ship The Migrator whenever he is sailing to or from the island. Various other things could also be spotted during certain times. As of Rockhopper's Quest, a red beacon could be seen in the distance.
Parties
Sound effect
Since May 22, 2014, a sound effect was added to the telescope. It is played whenever the telescope interface is opened.
Trivia
Gallery
Telescope views
As seen from the Beacon
See also
SWF
Migrator