Card-Jitsu Fire

Information
Players
2–4
Controls
Mouse
Minigame location
Fire Dojo
Date released
November 23, 2009[1] (members)
May 9, 2013[2] (everyone)
Date closed
March 30, 2017
"
For those who defeat Sensei, and become ninjas, things are heating up. A new challenge has presented itself. Are you ready to master the element of fire?
"
 

— Mysterious Voice, Card-Jitsu Fire trailer
Card-Jitsu Fire was a multiplayer game that was first accessible for members who were ninjas. It was a spin-off of the classic mini-game, Card-Jitsu. Card-Jitsu Fire, however, differs greatly from the original Card-Jitsu. Non-members could play Card-Jitsu Fire for the first time ever during the Card-Jitsu Party 2011. After the party it was once again members only. On May 9, 2013, the game became available to non-members permanently along with Card-Jitsu Water and the newly released Card Jitsu Snow.[2]
Stamps
Easy
Medium
| Name | Description |
| --- | --- |
| Fire Midway stamp | Earn your coat. Finish 50% of your Fire Ninja Journey. |
Hard
Extreme
Gameplay
The game's field consists of two rings of tiles. Players in their turn must select a tile from the inner ring which determines the amount of steps they will move from 1 to 6 in the outer ring. These tiles were flipped so players had to choose it randomly. Players could choose between two tiles to move to from the selected amount of steps.
There were three types of tiles that players could land on, an element tile, cycle of elements tile, and two cards battling tile. When a player landed on an element tile, a battle would begin where all players select a card of the same specific element from their current list of cards. When a player landed on a cycle of elements tile, they would get to choose the battle element. In both battles, the player who got the highest card number did not lose any points, while the other opponents lost one energy point. When a player landed on two cards battling tile, they would have an original Card-Jitsu battle against an opponent of their choice. This could also happen when a player landed on the same tile as an opponent, and they would battle against each other. In this type of battle, players could lose one energy point or gain one.
If a penguin stepped onto a tile in the outer ring of a particular element, and no player had a card of that element, all players would lose one point.
A player's score was measured by their energy points. All players started the game with 6 points, and could gain or lose one point in the different battle types. If a player lost all their energy points, they were out of the game. The place of each player at the end of the game was determined by their energy points they have ended up with.
Rewards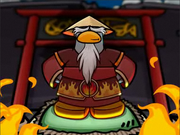 Instead of earning Card-Jitsu Belts, a player earned parts to complete their Fire Suit. There were four parts to the Fire Suit. They are:
When players completed their Fire Suit, they would be able to challenge Sensei. If they won, Sensei would give them a Fire Gem for their Amulet to signify they have mastered the element of fire.
Sensei messages
If the player was wearing a certain item or walking a certain type of puffle while opening the Sensei dialog closeup, he would make a comment. If the player met the criteria for multiple messages, only one would appear at once, selected at random. All comments were made in the form of a haiku, with the first and third lines containing five syllables each, and the second containing seven syllables.
Item/Puffle
Message
Cloud Wave Bracers
I see you're wearing
the ancient Cloud Wave Bracers.
Forecast is cloudy...
Tuba
Ahh, the great tuba.
A graceful instrument, and
strong, like brass ninja.
1st, 2nd, 3rd, or
4th Year Party Hat
I see you're wearing
an anniversary hat.
I like pointy hats.
Party Hat
Ahh, the beta hat.
The most ancient of all hats.
I rarely wear mine.
Santa Beard
Oh! You have a beard!
A fine choice. Mine helps me train...
Wait... Is that tied on?
Puffle (unused)
You brought a puffle!
Good thinking. Puffles taught me
much of what I know...
Black Puffle
Heh heh, black puffles
have great power. They are true
masters of fire...
White Puffle
Your white puffle must
concentrate in this hot place,
for fire beats snow...
Yellow Puffle
Your yellow puffle
is drawn to the Fire Suit...
Keen artistic sense.
Red Puffle
Heh heh, red puffles
Have no fear of fire! Yours
laughs at danger's face!
Purple Puffle
Your purple puffle
is loyal to follow you...
Most food gets burnt here.
Green Puffle
Ahh, your green puffle
is ready for lava with
that propeller hat!
Pink Puffle
Ahh, the pink puffle.
Secret masters of water...
Water beats fire...
Blue Puffle
The great blue puffle,
teaches us to hide our strength,
behind quiet face.
Item versions without messages
Some alternate variants of items in the above list do not cause their item's message to appear.
Real life replication (game)
This is a real life game, the instructions are:
Cut out a circle, and draw elements on it. Draw 2 amulets facing each other, and perpendicular to it, draw 2 Card-Jitsu symbols.
Get a 6-face dice.
Get up to 4 different pieces of objects, small enough, something like Monopoly.
Have at least 25 cards. Best amount is 40–60 cards.
Have fun!
Trivia
Glitches
On the first day of its release, there was a glitch where the game would not begin when it was full.
If all of the other players quit and you clicked "OK," the game would freeze. This glitch was never fixed.
If you started a game and a friend popup appeared, you could open up your Buddy List while playing the game. This glitch was never fixed.
You would disappear but your clothes would not. This glitch was never fixed.
During the Card-Jitsu Party 2011, all of the Card-Jitsu games had their matchmaking interface updated, and as a result of that, a glitch surfaced, where if you played on a 4-player mat and then when all the players were ready, you and the other players would turn Old Blue. This glitch was never fixed.
Gallery
Other
Video
Names in other languages
| Language | Name |
| --- | --- |
| Portuguese | Desafio Ninja Fogo |
| French | Card-Jitsu Feu |
| Spanish | Card-jitsu Fuego |
| German | Card-Jitsu Feuer |
| Russian | Ниндзя-Карты Огонь |
See also
SWF
References
External links