Card-Jitsu Party 2011 was a party that began on November 24, 2011 and ended on December 8, 2011. Sensei visited and gave away his autographed background. According to the login screen, non-members were allowed to play Card-Jitsu Fire and Card-Jitsu Water until December 6, completing their Ninja training.
Free items
Trivia
For the duration of the party only, Non-Members could play Card-Jitsu Fire and Card-Jitsu Water for the first time.
In a Parent Update newsletter, it said that everyone with a Water Suit or Fire Suit could control the weather.
Controlling the weather took 2-4 penguins. To change the sky color to orange or blue, each penguin had to dance with the Fire Suit or Water Suit.
While using an apron, Vendor, or any other Food maker next to the tables at the Coffee Shop and the Pizza Parlor, a different type of food would be served on the table.
Ninja Shadows were seen at the Dojo every 2-6 minutes.
The west side of the island was Fire-themed and the east side was Water-themed. The two themes met at the Snow Forts, where there were Card-Jitsu Mats laid out for Ninjas to battle.
When the party ended, the Fire Suit and Water Suit became Member items again. If a Non-Member had earned either of the suits during the party, the item would appear faded in his or her Inventory.

However, non-members who wore the items at the end of the party kept them on their playercard even after the party ended.

The Amulet became available for Non-Members after the party.
This party was created because Card-Jitsu Snow was not finished yet, so they had to delay it.
Many rooms came back during Card-Jitsu Party 2013, known as Celebration Of Snow.
If you were not a ninja before the party, and played Card Jitsu Fire/Water at the party, than your progression bar would still show Card-Jitsu Water and Fire after the party.
It was the first party to be available at the German servers.
Glitches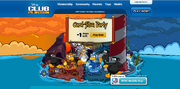 Gallery
Sneak Peeks
Homepage
Login Screens
Advertisements
Construction
Rooms
Other
Video
SWF
Music
External links