"
One single snowflake is quiet. But many of them... a powerful force. Ninjas, all of your training has come to this moment. Together, we must master the power of snow.
"
 

— Sensei, Card-Jitsu Snow trailer
Card-Jitsu Snow was the last Card-Jitsu game in Club Penguin, and the fourth addition to the Card-Jitsu Series; succeeding Card-Jitsu Water. Testing began on February 28, 2013 and ended on April 11, 2013. It was released during the Card-Jitsu Party 2013 on May 23, 2013.[1] In the game penguins must take on three Snow Minions enemies: Scrap, Tank, and Sly and later their walrus leader, Tusk; Sensei's former best friend from childhood, and now worst enemy.
Stamps
Easy
Medium
Hard
Extreme
Gameplay
The game is played on a tiled grid on a snow-covered mountain. It is very similar to that of checkers or chess. The ninja players are placed on the left side of the grid, while the snowmen are placed on the opposite side of the grid. Each player and snowman has a health bar. The bottom of the screen shows the player's deck. Every time a part of the grid turns blue, players have the option to move to a different spot on the grid. As players move closer to the snowmen, they can use powers on them. When a part of the grid turns red, players have the option to use a Power Card power-up against one of the snowmen, which temporarily stuns them, and causes them to lose health. Players can also lose health, which causes them to be temporarily stuck in the snow until such time where they are revived by other players.
Once a snowman has lost all of its health, it will fall and disappear. Once all the snowmen on the grid have lost their health and been defeated, the round will end. There are three rounds to beat before the match is won.
In the game, your penguin will be awarded with stamps, coins, and will be given a reward to complete your Snow Ninja suit, and unlock episodes of the Card-Jitsu Saga. Once you have received the full suit by winning many matches (there is a progress bar at the end of the game), you will receive the Snow Gem. By winning against him, you will be considered a full Snow Ninja. You will be awarded Tusk's Cape after you defeat Tusk. After that, you can still play to earn rewards.
Bonus round
Upon completing the third round, players will have a chance at entering a special bonus round. Ninjas will have to face four snowmen in the bonus round. Defeating all four snowmen will earn players the Bonus Win Stamp.
There are three different ways to enter the Bonus Round. One way is it to make it through all three rounds without a Ninja falling to an enemy snowman. This was originally the way to enter the bonus round while it was in beta testing. Another way is to finish the third round with all ninjas having full health. Doing so will earn players the Full Health Stamp. The last way to enter the bonus round is by completing all three rounds in a certain matter of time (most of the time it is around 4 minutes). The different ways to enter the bonus round are given at random and aren't in any particular order.
Revival feature
The revival feature was just recently added in the game. There's a special card, the Bonus Revive, which can be found at the right side of your card deck. It heals you to full health once used. This card can be used at any time and is members only. Also, it does not heal other players, but only you.
Villains
Unlike the other games in the Card-Jitsu Series, penguins fight alongside the other Ninjas against three evil Snowmen enemies. They have a grudge with the Ninjas, because they are doing Tusk's bidding to defeat Sensei and his ninjas, and to destroy the Dojo. The villains are:
Video
Just like Card-Jitsu Fire and Card-Jitsu Water, Card-Jitsu Snow has a trailer for itself. It is different from the trailers for the other Card-Jitsu spin-off games. Instead of an unknown announcer, Sensei speaks to the viewer, using the same voice and voice actor present in Never Wake a Sleeping Sensei, keeping continuity for the character. This was also the first official time we see Sensei in the penguin design first incorporated in 2013 Club Penguin artwork. The trailer is also in more of a television advertisement style, unlike the previous trailers.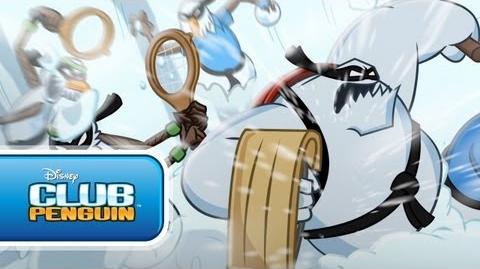 Transcript
(From the Commercial)
A glowing snowflake falls into Sensei's flipper.
Sensei: One single snowflake is quiet. But the many of them...
Tusk is seen in the top of a mountain, roaring and causing an avalanche.
Sensei: ...A powerful force.
The Snowmen come from inside the avalanche, and Ninjas are seen battling them.
Sensei: Ninjas, all of your training has come to this moment. Together, we must master the power of snow.
Sensei creates a light purple power from his flippers, which turns into a vortex and knocks the snowmen down.
Actual game footage is shown
Announcer: Battle in Card-Jitsu Snow, the newest ninja game! And members can get more special cards with powerful moves to defeat their enemies.
Tank is seen walking in the background of a snowy place, and a Mullet falls on him.
Announcer: Some features require paid Membership.
Tips
| Element | Attack | Range | Move | Special Abilities | Power Card | Combo |
| --- | --- | --- | --- | --- | --- | --- |
| Water | 10 | 1 | 2 | None | Double Attack to enemies | Power up to do an extra 50% damage on your next attack (can also heal if the player is the Snow Ninja) |
| Snow | 6 | 3 | 3 | Heal Ninjas by 6 | Damage enemies and boost a ninja's health by the power card value number. | Shield all ninjas from one attack |
| Fire | 8 | 2 | 2 | None | Damage and stun enemies | Damage enemies for 3 turns |
Battle areas
* Confirmed by Polo Field
Trivia
Glitches
Gallery
Sneak Peeks
Screenshots
Characters
Ninjas
Element statistics
Combos
Item rewards
Trailer
Other
Log Off Screens
Homepages
Videos
Names in other languages
| Language | Name |
| --- | --- |
| Portuguese | Desafio Ninja Neve |
| French | Card-Jitsu Neige |
| Spanish | Card-jitsu Nieve |
| German | Card-Jitsu Schnee |
| Russian | Ниндзя-Карты Снег |
See also
Card-Jitsu Saga Videos
SWF
References
External links
Community content is available under
CC-BY-SA
unless otherwise noted.