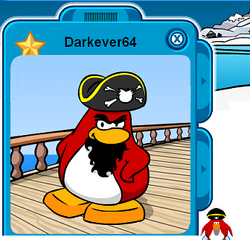 Cheating refers to performing any action not in the way the developers of the game intended the players to. It commonly refers for obtaining items, earning extra coins, accessing unavailable or limited features (such as member-only features) and so on.
Cheating is strictly against the rules of Club Penguin and a player that cheats gets banned for 72 hours or forever.
Cheating involves using third party programs, such as trainers, which gives a player advantages (such as having large amounts of coins without earning it). Activities like using online pin trackers, using CPPSes and looking for parties and catalog secrets are not considered as cheating.
Club Penguin encouraged all secret agents, as well as every penguin to report any suspected cheating. In an interview with Gizmo, he said, "Our next plan is to block the trainers".
Common cheating methods
The ways to cheat are using downloadable programs called "trainers". Currently, there is a trainer that has rose from the ashes above the other trainers named Cloud Penguin.
WPE Pro has been confirmed to work, but only with unpatched items. Also, you can make your puffle dig an infinite number of times to get lots of treasure.
Cheat Engine was another hacking program that was used to get certain items. It has been confirmed to not work on Club Penguin anymore.
Penguin Storm was a famous cheating program which was eventually patched by Club Penguin. It could generate coins, move you to rooms, even to the Migrator or party rooms from the previous party.
Followbot, or "clones", are a script or a program that cause clones of the cheater to walk after him/her and to imitate him/her (talk, and throw snowballs at the same time). This is the most common form of cheating. This is currently fixed, however, it may soon return to Club Penguin. When a player was caught using clones/bots, all their bots were banned except the player, who will be removed from the server (kicked).
Item Adders can be an online or downloadable software that allows the penguin who uses it to get any item on Club Penguin. Club Penguin staff members such as Polo Field confirmed that they are working for a patch soon.
Known Cheating/Hacking incidents
A hacking group known as Derp had taken down gaming sites such as EA.com, Battle.net and Club Penguin on/around December 30, 2013. [1]
On April 28, 2014 the server Blizzard was hacked; rude postcards were sent to many penguins and some innocent accounts were banned.
Gallery