For other clocks, see Clock (disambiguation). For other towers, see Tower (disambiguation).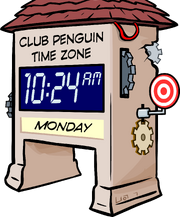 The Clock Tower was a large structure located at the Snow Forts which was built by Gary on February 23, 2007. It only told Pacific Standard Time ("Penguin Standard Time"), which was the main time zone used on the Club Penguin Island, to help penguins from varied time zones when holding parties at their igloo or elsewhere. It also told the day of the week.
On the side of the Clock Tower, there was a target that would spin around when hit with a snowball, which hinted that this was the power source for the clock's internal mechanism; however it was just an encouragement for penguins to take interest in the Clock Tower, as it could work properly without the frequent mechanism boost. Below the target was a secret coded message, which said "By G" (The "G" stands for Gary. Also known as Gary the Gadget Guy or Agent G.). A plaque was located nearby, and if you clicked on it, it would show an "engraved" message about its construction and release; it was removed after the Snow Forts renovation on December 6, 2012.
Parties
During the April Fools' Party 2007, there was no Club Penguin time zone.
During the April Fools' Party 2008, Monday was spelled backwards, saying Yadnom instead (same goes with the other days) and the time was in handwriting.
During the 2008 St. Patrick's Day Party, the clock was green.
During the Medieval Party, the clock was wooden with 3 shields.
During the Adventure Party, the clock tower was covered in plants.
During the Island Adventure Party, the clock tower was wooden.
During the Holiday Party 2010, the clock's roof was a pinkish red with lights hanging from it, green tinsel circled the time and the feet were made of candy.
During the Halloween Party 2013, Halloween Party 2014, Halloween Party 2015, and Halloween Party 2016, it was replaced with a coffin that displayed the time, placed on top of a small house.
During the Muppets World Tour, it was redesigned as a typical Spanish building.
During the Future Party, a future version of the clock tower could be found at the Future Snow Forts.
During the Frozen Party, Frozen Fever Party 2015, and Frozen Fever Party 2016, the clock tower was a rustic wooden house.
During the Star Wars Rebels Takeover, the clock tower was replaced by a big screen that displayed time.
During Operation: Tri-umph, it was decorated with neon.
Card-Jitsu card Description
Ready, set, throw snow! Find this snowball-powered clock in the Snow Forts. Throw snowballs at the target to help keep it powered. Just press T on your keyboard and click the red target!
Trivia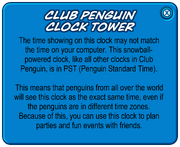 Gallery
See also
SWF
Community content is available under
CC-BY-SA
unless otherwise noted.