Not the article you were looking for? Check the disambiguation page.
Club Penguin: Elite Penguin Force: Herbert's Revenge


The box art for Herbert's Revenge
Information
Platform
Nintendo DS family
Developer
1st Playable Productions
Publisher
Disney Interactive Studios
ESRB rating
Comic Mischief
Genre
Point-And-Click
Date released
: May 25, 2010
: June 26, 2010
: July 7, 2010
Club Penguin: Elite Penguin Force: Herbert's Revenge is the second Club Penguin DS game released, and a sequel to Club Penguin: Elite Penguin Force. It was confirmed in a What's New Blog post and is the second game in the EPF series. It received many positive reviews from Club Penguin players.[1][2]
History
Blog Posts
Club Penguin has posted several blog posts, and sneak peeks about the game. Click here for information concerning them.
Interview[3]
"
We were very pleased with the incredible response to the first DS title, and the kids have given us tremendous feedback, making it clear they want to experience even more Club Penguin adventures on DS. Developing a sequel was a great way to meet that need while exploring more ways for fans to experience the Club Penguin virtual world offline.
"
 
"
Featuring new mysteries, missions and mini-games, Club Penguin: Elite Penguin Force: Herbert's Revenge will continue to entertain and delight kids around the world. Fans of the original DS game can expect to navigate through popular, familiar elements from the virtual world, plus numerous new adventures and gadgets unique to DS.
"
 

— Craig Relyea, Disney Interactive Studios
Many bloggers got sneak peeks for the game in their e-mail from Billybob, of which they could share exclusively on their blogs. Billybob later posted the sneak peeks on the What's New Blog.
Gameplay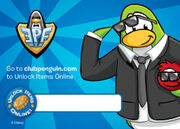 In the game, you play as an agent in a specialized team to stop Herbert and continue the story after the end of the PSA.
You solve missions and play minigames, you can earn coins, upload coins to your online account and play multiplayer. There are ten missions to solve. The main enemy is Herbert, a vegetarian polar bear, and your allies are Rookie, PH, Jet Pack Guy, Dot, Gary and The Director, all from the first game.
Each pack comes with a code card with which you can unlock items online (which you could use to access the EPF Command Room at the time).
Release dates
The game was released in North America on May 25, 2010.
The game was released in the UK on June 26, 2010.
The game was released in Australia on July 7, 2010.
Features
Play 10 missions on the Nintendo DS.
Earn coins by playing games.
Play 4 new exclusive games.
Sync your Club Penguin account to upload coins and items that you earned on the DS to the online game.
Play multiplayer mini games.
Play Club Penguin all-time favorite minigames with the touch screen.
Includes DGamer - the online community exclusively for Disney gamers. Create unique 3-D avatars, create a persistent profile, chat with friends in a Club Penguin chat room, share Club Penguin themed accessories, earn in-game honors, and unlock exclusive Disney content.
Missions
Missions marked with * are playable online.
(NOTE: There are only 4 EPF missions, excluding the PSA ones)
Minigames
Returning features
The game allows to transfer coins onto your own Club Penguin account, just like Elite Penguin Force. Unlike its predecessor, however, you can no longer purchase clothes.
Beta elements
In the trailer, a cutscene showing Rookie behind Herbert and calling the player is not present, instead, it is treated as a normal call not as a cutscene.
On the back of the game, there is a scene from Mission 9 showing Dot, Rookie, and Jet Pack Guy at the Tallest Mountain. Jet Pack Guy can be seen wearing the Heads-Up 3000, which is impossible, because you can't give the Heads-Up 3000 to him.
Also on the back of the game, there is a scene from Mission 10 showing Herbert near the Ski Lift and the water. However, the belt wasn't cut and Klutzy was jumping, making it impossible for Herbert to be untangled at that moment.
Music
Names in other languages
| Language | Name |
| --- | --- |
| Portuguese | N/A |
| French | Club Penguin: Elite Penguin Force: La Vengeance d'Herbert |
| Spanish | Club Penguin: Elite Penguin Force: La venganza de Herbert |
| German | N/A |
| Russian | N/A |
See also
References
External links