Community Page
This article is a page for the Club Penguin Wiki's community. Have fun editing!
A Band is a informal gathering of penguins wearing special instruments who pretend to make music with them. Most penguins in a band are members, although non-members can join if they choose to sing or have the maracas.
Band Performance Locations
List of Instruments
Acoustic Guitar

Black Electric Guitar
Red Electric Guitar
Bass Guitar
Sunburst Acoustic Guitar

Singing
Maracas
Festive Maracas
Snare Drum
Drum set
Violin
Tuba
Keytar
Accordion
Tambourine
Flowing The Plane
Genre: Pop, R&B
Lead singer: 962minez
Song writer: Pengypengoo
Guitarist: Levitation1
Drummer: 6thpenguin
Bassist: Elepsis
The Elite Four
Genere: Rock
Electric Gutair: Badmanevan
Bass: Dude18643
Drums: Rvd56712
Trumpet: Lumpytoast
The Club Penguin Duo
Members
MJ No1 Fan
About: Was in Club Penguin since April 2008.
Persy 165
About: Was in Club Penguin since March 2008
The Flying Penguins
Leader: Frenley
Founder: Magic112548
Members
Trumpet: Frenley
Accordian: Snowman 1001
Snare Drum: Flystar55555
Maracas: Hat Pop
Guitar:Gknee19
Singer:Peewee2005
The Golden Puffles
Singers:LilyFairy26 (Non-Member)
Piano:None
Acoustic Guitar:None
Electric Guitar:None
Drums:None
Maracas:None
Violin:None
Drums: PokeTrainer8 (Non Member)
Tuba:None
The rockers
To sign up with the band, see:The band page
Metal Remains
Singers: DillyDally(1st), jackperth (2nd), goobadayer (3rd), green67534 (4th), redtemplar (backup)
Piano: DillyDally
Electric Guitar: jackperth, notpeterpan, lovediva
Acoustic Guitar: blacktemplar, goobadayer
Drums: green67534
Manager/leader: DillyDally
Dancers: toothyfea, toothyemmy, Dalsworth
The Foolers
Genre:Rock

Comrade45: Leader, singer,& Acoustic Guitar
drums:Rock 4827
flippy dog10:Accounting's guitar
Jjori:dancer and instrument player
Eagle eyes:Dancer
mimiey111:2 singer
Command7:Electric guitar
The Pengu's
Genre: Contemporary
Symbol: Club Penguin Island
The Golden Penguin
Swimmer Jane and Grace 5
The Black Mar-ockers
Instruments: Maracas
The Backstreet Penguins
Genres: Hard Rock, Rock N' Roll, Classic Rock, Christian Rock, Christian Metal.
Lead singer, Keyboardist, Therimin, Kaoss Pad-Flash 1701

Lead Guitar, Backing Vocals-Gyro66

Rhythm Guitar, Backing Vocals-Xoxice33

Bass, Backing Vocals-Moomoolisa

Drums, Backing Vocals-Ace00009
Equipment used: Flash 1701: Casio Flash 1701 Custom Signature Lead, Casio Jamster Mini, Casio Therimin, Casio Kaoss Pad, Casio 75 Watt Keyboard Amplifiers, Flare Lead Flash 1701 Custom Wired Microphone, 2 Flare Microphone extention cabinets, Casio Floor Pod Effects Pedals, Casio Key-Wah, Marshall 370 Watt Flash 1701 Custom Signature Guitar Amplifier

Gyro66: Gibson Gyro66 Custom Red Flying V, Marshall 425 Watt Gyro66 Custom amplifier, Marshall JCM 800 Cabinets, Flare backing microphone, ZOOM GFX-8 effects Pedal. Gibson Gyro66 Custom Wah

Xoxice33: Ibanez Custom Xoxice33 Iceman, Marshall JCM 900 150 watt amplifier, MESA/Boogie Triple Rectifier Cabinets, Flare backing vocals microphone, Line 6 Floor Pod Effects Pedal, Xoxice33 Ibanez Signature Wah

(His other guitar is a ESP "Alfee Custom" SEC-280TC (Mahogany body, maple neck, rosewood fretboard).

Moomoolisa: ESP Moomoolisa AXR-2980 signature punch bass, Marshall Moomoolisa Custom 100 Watt Bass Amplifier, Marshall Bass Fuzz Pedal, Flare Backing Microphone

Ace00009: Pearl Vision Series Ace00009 Signature 11-Piece Drum Set, Pearl Ace00009 Signature Cymbals, Pearl Ace Signature Drumsticks, Pearl Ace Signature Mallets, Pearl Ace Signature Brushes, Pearl Ace Signature Exotic Sticks, Flare Backing Microphone, Pearl Ace00009 Signature Pedals, Pearl Ace00009 Signature Drum "Throne."

Where to find us at a concert:
Our most well-known places to perform are The Ritz Rock Club, The Night Club, The Pizza Parlor, The Apollo Rock Club, The LightHouse, and the Iceberg Stage.
Lineups:
Original: Flash 1701 Gyro66 Icyblue426 Xoxice33
2
Flash 1701 Gyro66 Xoxice33 DeathFlame47 Icyblue426

Current Flash 1701 Gyro66 Xoxice33 Moomoolisa Ace0009
Questions? Comments? E-mail us at backstreetpenguins@icebreaker.net
Current Album in Production: BLACKOUT
Following Album: BLACKOUT II
Current Single: Know Your Enemy
Rock on and waddle on!
The Penguin Jazz Duo
The Dark Puffles
Genre: Rock
Symbol: Puffle and Crossbones
Barkjon: Drums and Occasionally Singer
Fluffin Stuf: Singer and Maracas
Fluffy 21: Guitarist and Singer
CP Wiki
Genre:Contemporary
Symbol: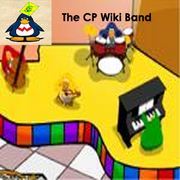 The Tone Rocks
Barkjon: Drums
Daisy Dear: Electric guitar/vocals
Kidrule 997:Acoustic guitar
Mahicans: Maracas
Coolio676: Vocals/acoustic guitar
Allysomatic: Acoustic guitar/dancing
The Pencil Chickens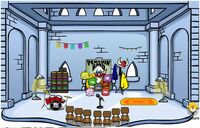 Genre:Rock
Symbol:
0
Sheep man: Electric guitar/Violin
Agent genius: Drums/Maracas
Failsafe: Vocals/Dancing
Sheep man was bored one day and changed the bands name from S.A.F.? to it's current name.
The TPS Band
The official band for the TPS group. Consists of the first 4 members.
Lamb Leroy: Electric Guitar/Lead singer
Bubbles10 11: Drums
Hawley: Piano/Maracas
The G 721
See the band's page.
The One Penguin Band
Los Mexican Penguins
Singer/Maracas: Snakesy1 Singer/Dancer: Ford Car
The IceBergs
Genre: Rock
Performances: The Battle of the Bands
Practice Spots: Oneoh10's Igloo, Lighthouse Beacon
Lead Singer/ Gong Player: Oneoh10
Back-up singer/Drums: Darwinn
Back-up Singer/Maracas: Windilli
Guitar: Dalejr889
Dancing: Open to anyone
The Gon'R's
Formed- November 15 2000
Genre: Cover Rock, Classic Rock, Hard Rock
Performances: Warped in Time, Classic Youth, Pengskeller
kobra200 - vocals
jaymesteeler-lead
smartydaniel-rhythm
playday976-bass
retroguy536-percussion

Former Members:
HyperKoala
awesomeone
ur granny11
kid y
ABC123
Realling
Gillboy
croa714
jimmyboy1da
simpon10
Bennyboy474
Albums:
2000-NeverFly (Hits: Kick-Start My Coins, Welcome To The Forest, Boat On The Run, Smells Like Party Life)
2001-The Noodle Incident? (Hits: Sweet Chili Of Mine, Lithium, Pretty Fly (For A Pengui), Carp-Shaped Box)
2001-Pronounced Gon-ERS (Hits: Free Bird, Paradise Town, Mwa Mwa Rock, Today, Penguin With Butterfly Wings)
2001-IT'S UNTIPPABLE! (Hits: Need You Tonight, Books Are Burning, Dirty Deeds Done Down Under, August Rain)
2002-STOP. PLEASE. (Hits: Original Evil, King Of the Ski Hill, Curls on Film, Hungry like the Wolf, Knockin' On 'Hoppers Door)
2003-Greatest Gon'R's Greats (All of the Above Mentioned)
2006-WWIIII (Hits: Come As You Are, Song 3, All The Small Things, Paint It Black, Boys Are Back In Town, Dr. Feelgood, Livin' On A Prayer, Blaze of Glory, Shout to Evil, Enter Sandman, Alive, Even Flow)
2006-Live and Alive (Songs: Mwa Mwa Rock, Alive, Even Flow, Song 3, All The Small Things, Original Sin, Lithium)
2007-In Your Head (Hits: Purple Haze, Lust For Life, Rock 'n' Roll High School, I Wanna be Sedated, Sweet Home Yukon, Iron Man, Paranoid)
2007-E.N.D End For Me (Hits: One, Story Of My Life, Sunshine Of Your Love, Holiday In Cambodia, Rock You Like A Hurricane, La Grange, Black Magic Woman, About A Girl, Smoke On The Water, Times Like These)
2008-Live at Pengskeller(Songs: Purple Haze, La Grange, Rock 'N' Roll High School, Come As You Are, King of the Ski Hill, Paranoid)
2009-Peaceful Little Rebellion (Hits: Mountain Song, Crazy Train, Made For Lovin' You, The One I Love, Rebel Yell, Bad Medicine, Jump, Run For The Hills, Hot Temperature, 2 Minutes To Midnight)
2009-Before We Mummify: A Decade of The Gon'R's (Every Hit Song)
2010-The Return (Hits: Kiss The Dirt(Falling Down a Mountain), Turn up The Radio, My Happiness, 18 and Life, Black Hole Sun, Lust For Life, Riders on the Storm)

Like the Backstreet Penguins before them, The Gon'R's main mission was to bring back 80's rock, but unlike them, they also will deliver 70's and 90's. A group of boys started jamming and, before long, they were selected at the gig known as WARPED IN TIME and became an instant hit. They then released our albums, all staying near the top for 5 weeks straight. However, after releasing Greatest Gon'R's Greats, everyone; except for kobra200; had left the band and quit CP. A few months later, new members joined, and it helped kick-start the bands music. WWIIII surpassed even the mighty Backstreet Penguins Appetite for Rock 'n Roll on the charts. However, things got out of hand. The Gon'R's became hooked on sour candy and became one of the most destructive bands on Rolling Snow. A new album was in doubt, then In Your Head appeared, sparking the 60s-90s revolution. That didn't improve the bands condition, though, and kobra200 was certainly feeling it. On the verge of crying, he almost crawled into bed, but was stopped by jimmyboy1da. E.N.D End For Me was a shout-out of what was going on. And then, kobra was on his own again. jimmy is still in the band, and a new line up was formed. Unfortunately, there was frequent fights between most members, so they release 2 albums: P.L.R and a month later, A celebration album. A break-up was coming their way. And they broke up. ANOTHER lineup was formed.
Demon Rhythm
Flarethrower: Singer/Drummer ( IF anyone wants to join they just need to tell me your penguin name and favorite server, find out more on User : Ratchetrules' page )
The lone penguin
Genre:country
Logo: Red penguin walking alone to cove in sunset
User:Coool31 | Fisher]]: Singer/Acoustic Guitar/Violin favourite server: muckluck
Snowballs
Gutarists: Luckyblue, Romathone, and Ferret Pals Marracans: 6bob (spelled sixbob), Abigale12348, and Soogarcool Bellest: Sydee111
The Lucky Greens
Drums: Patrick3089
Elect. Guitar: Mrthomas3
Singer\Elect. Guitar: Souljaboy260
Elect. Bass: Snoblob2
Acoustic Guitar: Cheeseyjr
Keytar: Toyman621
Songs:Ain't Gonna Loose
The Iceberg
I Wish
Lucky
Golden
The CP Beatles
Singer: User:Jupiter5 (Paul) Singer: Jupiter6 (John) Base guitar (and more): McKibbles (George) Drums: Auditioning still being held (Ringo)
===Purple ninjas=== Guitar:Patchy99 ninja master
Singer:Dan portis, my friend
Bass:Open
Drums:Open
Dancers:Dan Portis
Keytar:Open
Backup singers:Patchy99 ninja master
Songs
When ninjas fly(Live at music jam)
Dont wait up(Purple ninjas 1)
The smelly sandwich(Purple ninjas 1)
Songs
Of course, when you have a band, you need songs. Here are all the songs from bands.
The Pengu's:
The Golden Puffles
Metal Remains

Smells Like Teen Spirit
Iron Man
Iron Maiden
Dark Is the Night
Breed
Venomscythe
Hangar 23
Blackdown

Club Penguin Wiki
The Pencil Chickens:

Weasel's greatest hits
Kablooie!!!!
Bob the Blue Nosed Rabbit
Eating Grass
Moose in a Nissan Micra

The G 721

Speechless Talk (Club Penguin Edition)

Has No words, Just instruments.

Area 51

Demon Rhythm

World Water ( Under construction )

the lone penguin
rail road
Campenguins Solo Boy

Bad Day
We are penguins and we have Rights!
All songs by The Beatles

The Penguins Who Rocked The Iceberg
Technotris
 [1]

Were not gonna take it(CP edition) Blackout(100% original)
The Big Playing Instruments
Guitars: Staffan15, Sprongebobrocks09
Dancers:
Trumpet: Sharkbate, Organo (not a CPW user)
Singer: NookClubPenguin
Electric Guitar: Metalmanager
Drums: Barkjon
Hand Gong: OOJH123
To join, go to the band page and write in the "The Big Playing Instruments" section. --21uɐɟɟɐʇs

ʞןɐʇ ʎɯ 22:06, 1 March 2009 (UTC)
The Backstreet Penguins Most Famous Songs
Hey everybody! Whether you are new to liking The Backstreet Penguins, or if you are a devoted fan from our start in 1999, you should still check out some of most classic and famous songs, as listed below:
Welcome to the Iceberg (Appetite For Rock N' Roll)
We Will Rock You (Radioactive Zone)
Thanks For The Memories (R.I.P. [Rock In Peace] DeathFlame47)
Sweet Pengu O' Mine (Appetite For Rock N' Roll)
Penguin City (Appetite For Rock N' Roll)
Penguins of Our Time (Ultra Beatdown)
Rock N' Roll Train (Black Ice)
Mr. Brownstone (Black Ice)
To Hell With The Devil (Loud N' Clear)
Loud N' Clear (Loud N' Clear)
Rocket Peng (Appetite For Rock N' Roll)
Out Ta Get Me (Appetite For Rock N' Roll)
Strike of The Ninja (Black Ice)
Pump It (Ultra Beatdown)
Whispers In The Dark (Santa's Beat) (No idea why we put it on our 2008 Christmas album. Still a great song, though. NOT SEASONAL).
You Give Love A Bad Name (Blind)
Think About You (Appetite For Rock N' Roll)
Patience (Use Your Illusion I)
THE CP BOYS
Singer/Rythym Guitarist:POWERCORE1
Singer/LEAD GUITARIST: Burner595
Drummer:Bottle300
CP BOYS HQ IS EITHER AT POWERCORE1s IGLOO, OR Burner595s IGLOO
The Black Penguins
Band Leader/Lead Singer/Acoustic Guitar/Trumpet: Rockstar399
Acoustic Guitar/Backup singer: Atomic1337
Drums: Bush900 (Not a CPW user)
Practice is every day at 4:15 pm EST in Rockstar399's igloo on Toboggan.
The Rock Ninjas
Singer/Keytar:The A-Kong (A.K.A. Orangopingu)
Guitarist(electric):
Guitarist(Acoustic):
Drummer:Barkjon
DJ:
Songs I'm working on are as follows:
Stranded on Rockhopper island
Master of Stealth(Ninja song)
Walking on walls
The Purple Ninjas
Singer:Dan Portis
Guitarist:Patchy99
Drums:The Bull
Bass:open to anybody
The Gospel of CP
Singer: Ben 100022
Drums: Catzip888
Guitar: Ben 100022
The Cocktail Swings Maracas/Guitarist/Violin: Me, MJ No1 Fan(NookClubPenguin0 Maracas/Dancer: Persy165(not a CP Wiki user)
The Yarr rockers
Members:
Double 22- Drums and Accordian
Songs:
Tippin' the Iceberg
110% Awesomeness
Puffle's tongue
Out of coins
1, 2, 3, 4!
What do you mean cold?
ICE!!
MJ No1 Fan and Persy 175: The 2 Classmates
Members: MJ No1 Fan(me): drums Persy 165: maracas
The Music Freaks
Singer:Jaktmann
Drums:Zhadow/Dh10001(Not CPW User)
Guitar:De Base(Not CPW User)
Guitar/Bass:Jaktmann
Snow Day
Lead singer: Jedi Jon
Guitars:Jedi Jon and 12345Zingman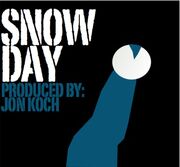 Cosmic Impossible
Da Fosteri Cousins
Singing:The Mistake1/Jenny Grace Drums: Fish Madness
The Ice Mudkips
Singing: Mudkip11223
Leader and Guitarist: Iceanator189
Maracas: Mudkip112223
Penguin Legend
Leader and Drums: Pablodepablo Singing: Leafsky Guitar: Leafmist
The Yellows
Singing: Mario2903 Guitarists: Mario2903, Eddy1290 Bass: Luke55255 (The king penguins split up) Drums: none
The Beast Penguins
Triangle:Outlaw717
guitar: Tjo3269
Drums: I Like Fair
Sing:Open
The CP Rocks
Drums: Colts901
Singer: Zando1243
Guitar: Zando1243
DJ: Blakestip145
The Tooth Rockers
Practice is on the I word at Bowling Rock on Tuesday's at 5:00 PM EDT, 2:00 PM PDT at Gary Numbah2's igloo.
Guide To Having A Great Band
Step 1: Get The Band Together. The best combination for a band is a: Singer, Guitarist, Drummer (To Keep The Beat), and Violinist, Maraca Player, or Tuba Player(For Other Sounds). If you play at the Nightclub or your igloo a DJ may be helpful. Pianist could also be useful for decorational purposes.
Step 2: Invite them to your igloo or one of theirs. The best practice igloo would include a DJ Table, Drum Kit, and Two Microphones.
Step 3: Practice. Be sure to make a song that your band, especially the singer(s), can remember.
Step 4: Make a name for the band.
Step 5: Make a practice time that all your band can remember. Be sure to use Penguin Standard Time to avoid confusion between time-zones.
Step 6: Write down lyrics and cues for the songs you will play.
Blue Penguin