An archive page for all the "Pictures of the Month" images can be found Here.
The Featured Image is a spot on the mainpage to show our best images. A new one appears every month, but they are voted on here. The image with the highest vote difference by the end of the month becomes the Featured Image. The featured article on the main page is updated on the 29 of each month, where the Featured Image will go to archives. Once an image is chosen to be a featured image, it cannot be nominated again. These images can be about any subject in Club Penguin, including events, characters, games, etc.
Note that these images must follow the image policy.
Instructions and Guidelines
In order to nominate an image, at least 2 users need to support the nomination of the image.
Each month there will be votes for an featured image, where all users can vote for an image. The results will be announced every 29 of the particular month (with an exception for February).
Note that only a limited number of photos will be nominated each month, so picking the Featured image would not be difficult.
Animated images are allowed to be nominated, but this rule can be changed in the future.
The credit for the winning image will be given to the user who uploaded it, so please do not upload an image that has been formerly uploaded by another user.
---

==<image name (including link to the image)> (0)==<br />
Nominated by <name of 2 users>
===For (0)===<br />
===Against (0)===<br />
===Comments ===<br />

Voters Notice: You must vote in either "For" or "Against". If you vote in for, you have to sign underneath the "For" heading. To do this you have to type this in:
#~~~~

Please remember to use "#" instead of the usual "*", because it numbers the votes making it easier to count them.
You can also remove your vote. If in any case you change your mind, do not remove your vote completely, just strike it out and move it to the back of the list.
---
---
Please vote under this line
Nominated by ULSK12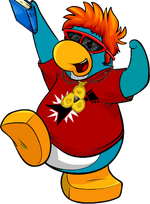 For (5)
ULSK12
Against (1)
Comments
Nominated by Dps04 and Sdgsgfs
For (7)
Against (0)
Comments
One of the best images i've ever seen in Wikia- and i've seen a lot of them! Penguin-Pal (talk) 06:16, August 7, 2012 (UTC)
Sdgsgfs has so many friends now, and this is one of the biggest pictures I've ever seen. --Wanna meet me? Ok, perhaps a Card-Jitsu Game will work (talk) 13:59, August 7, 2012 (UTC)Ally67
Wow, now THATS a lot of friends. --King Pig with a ring?! (talk) 04:58, August 8, 2012 (UTC)
That is so nice and kind! Who would oppose? Jackninja5 is the Awesome Dude!!!
This image is special. Unlike most images, it has many contributors, and it shows a point in time of our wiki's history. It shows a point in time where users, old and new, took their time to sign for future generations of CP Wiki users to see. Plus, who wouldn't want a FI with this many users featured in it? ;) --Hey.youcp 22:53, August 17, 2012 (UTC)
Nominated by Orangebird763
For (9)
kek
--Choco Late9 22:07, August 17, 2012 (UTC)
23:35, August 20, 2012 (UTC)
Against (0)
Comments