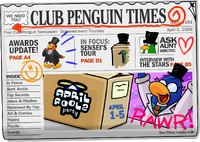 We at the Club Penguin Wiki aim to have a database full of factual, canonical and helpful articles. We do not want the user to see gibberish inserted into pages, large amounts of text removed or replaced or spamming on articles.
The results if you break the rules
| Action | First offence | Second offence | Third offence | Further offenses |
| --- | --- | --- | --- | --- |
| Vandalism | Warning | 3 day block | 1 week block | Any further occurrences of the above will be discussed by the administration. |
Vandalism account
If an account is identified as being solely used to vandalize, then it will be blocked indefinitely.
Community content is available under
CC-BY-SA
unless otherwise noted.