This page is under construction. Please talk with Mariobilly before editing.
Click here to sign up for auditions.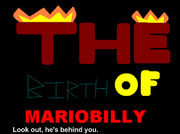 Plot
Herbert creates a new robot named Mariobilly that looks just like a penguin that he sends to destroy Club Penguin, but it has so much fun, it forgets it's whole mission and eventually finds love.
Characters
Mariobilly
A robot created by Herbert to destroy Club Penguin.
Color:Red
Clothing:New Player Red Baseball Hat, 3D Glasses, Vinyl Messenger Bag, Beta Hat T-Shirt, Wingwarmers, Wool Socks
Actor:Mariobilly

NOTE:The reason Mariobilly's clothes and colors are not the same as his current outfit, because this is Mariobilly's original outfit, and this is the story of Mariobilly's origin.
Herbert Percival Bear, Esquire
A polar bear from the Arctic Circle. Wants to heat up Club Penguin, and worst enemy of EPF.
Color:Arctic White
Clothing:Herbert Disguise
Actor:
Klutzy The Crab
A crab who once saved Herbert's life, and now his right hand man (or crab).
Color: Red
Clothing:Klutzy Disguise
Actor:
Susan
A female penguin who Mariobilly falls in love with, and wants to be a news reporter.
Color:Brown
Clothing:The Band, Diva Sunglasses, Green Recycle T-Shirt, Black Checkered Shoes
Actor:
John
An EPF agent who is certain that Mariobilly is a henchman of Herbert, and wants to get a promotion by capturing and turning him in.
Color:Green
Clothing:Delta Fedora, Delta Shades, Delta Suit, Delta Sneaks
Actor:
Script
THE BIRTH OF MARIOBILLY, A CLUB PENGUIN WIKI:STUDIOS PRODUCTION.
Scene 1:Herbert's Lab (VR Room)
Herbert
Klutzy!! Hand me that button.
Klutzy
Click, click.
Herbert
Yes, I've done it! A robot that looks just like a penguin! Now, go destroy Club Penguin, my brilliant newborn creation.
Mariobilly
Boop! Beep! Yes, Master Herbert.
Herbert
Excellent!
Scene 2:Dock
Mariobilly
Must destroy penguins!
Random Penguin 1
Hey, wanna play ball with us?
Random Penguin 2
Yeah, we could use an extra player!
Mariobilly
Well, I feel like I'm supposed to be doing something, but okay!
From Lab
Herbert
What is he doing? He's supposed to be destroying penguins, not playing with them! Hmmm... I'll fix him! Klutzy! Come on!
Klutzy
Click, click, clickety, click, clack!
Herbert
No, we can watch hockey later.
Klutzy
Click.
Herbert
Aww, the championships? *sighs* Fine, then we go get Mariobilly.
Klutzy
Clickety?
Herbert
Yes, I'm sure that's what I want to call him.
Klutzy
Click, click?
Herbert
No, not Rocket Snail!
Klutzy
:(
Back to Dock
Mariobilly
Heh heh, come on, you gotta throw harder than that!
Susan
Hey, James. Hey, Arthur. Oh, hey there, uhh...
Mariobilly turns to Susan
Mariobilly
Oh, it's uhh... Mariobilly!
Susan
Mariobilly. Nice name!
Mariobilly
Thanks.
Mariobilly's radio goes off
Mariobilly
Oh! I gotta go!
Susan
Bye!
John is watching from behind snow lump speaking on Spy Phone
John
Director! I'm sure this guy I'm spying on is with Herbert! He just came out of nowhere!
Director
Agent J-1, why do you keep accusing random penguins of being evil? I'm pretty sure this is just a normal guy.
John
No, no, this time, I have a hunch!
Director
Like all the other times you had a hunch?
Flashbacks of John arresting innocent penguins
John
Okay, you have a point. But I'm keeping my eye on this guy!
Director
Whatever.
John and Director hang up
Scene 3: Back to Herbert's Lab
Herbert
Where have you been, Mariobilly?!
Mariobilly
Playing... I mean disintegrating penguins.
Hebrert
FOOL! I was watching you on the camera. GO SIT IN THE DUNGEON WITH KLUTZY!
Mariobilly
Yes, Master Herbert.
Scene 4: Dungeon
Mariobilly
Klutzy, remember that girl on the camera?
Klutzy
Click, clack.
Mariobilly
For some reason, when I'm with her, I have something inside me that makes me feel different, but it doesn't harm me, like a virus. This feeling is not included in my intelligence.
Klutzy
Clack.
Mariobilly
Oh, I should meet her again?
Klutzy
Cliiick, clack.
Mariobilly
At the Beach? Tomorrow evening? Okay.
Scene 4: Mine Shack
Klutzy
Click, click, clack!
Susan
Oh, hi little crab!
Klutzy
Clackety!
Susan
Hold on, I can speak crab. Oh, yes, I remember that Mariobilly guy (In head: He's actually kinda cute).
Klutzy
Click, clackety!
Susan
Oh, I would love to meet him!
Klutzy
Cliiick, clack.
Susan
Okay. At the Beach, tomorrow evening.
Klutzy
Clacketty.
Community content is available under
CC-BY-SA
unless otherwise noted.