Non-meetable character
This article is about a character on Club Penguin that cannot be met as a mascot.
Conjecture
The subject of this article does not have an official name, and as such, it has a conjectural title.
Not to be confused with Dancing Penguin from PSA missions.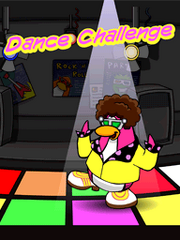 The disco penguin is a character seen in the video game Club Penguin: Elite Penguin Force for Nintendo DS. The character appears on the dance floor of the Night Club, making disco poses. If talked to, he allows the player to play Dance Challenge.
During mission 7 in the game, Double Trouble, he plays a small role. Players have to defeat him in Dance Challenge to win over Pop. After the contest is over, a loud noise is heard from Boiler Room, causing him to cower. Unlike the DJ Penguin, he stays behind, worried.
Trivia
He appears to wear The Disco, although his other clothing is not actual items.
He appears in the game Dance Challenge, where he performs moves, which the player must then repeat. He appears without any clothing, however.