Line 2:
Line 2:
 

{{RoomInfobox

 

{{RoomInfobox

 

|title= Dojo Courtyard

 

|title= Dojo Courtyard

−

|image= File:Dojocouryard10water.PNG

+

|image= File:.

 

|open= [[Dig Out the Dojo|Dig Out the Dojo 2008]]

 

|open= [[Dig Out the Dojo|Dig Out the Dojo 2008]]

 

|place= Outside the Dojo.

 

|place= Outside the Dojo.

 

|games= None

 

|games= None

−

|tourguide= "This is the Courtyard. It is mystery building you suck.

+

|tourguide= This is the Courtyard. It .

 
⚫

The '''Dojo Courtyard''' is the entrance to both the [[Dojo]] and the [[Ninja Hideout]]. You can either go inside the [[Dojo]] or into the [[Ninja Hideout]]; if you're a [[ninja]]. The door to the Ninja Hideout is behind the stone tablet with strange writing written on it. If you are a [[ninja]], you can enter the wooden door if you move your cursor. It is accessible by the [[Map]] or the [[EPF Spy Phone]].

−

}}

 
−
 
⚫

The '''Dojo Courtyard''' is the entrance to both the [[Dojo]] and the [[Ninja Hideout]]. You can either go inside the [[Dojo]] or into the [[Ninja Hideout]]; if you're a [[ninja]]. The door to the Ninja Hideout is behind the stone tablet with strange writing written on it. If you are a [[ninja]], you can enter the wooden door if you move your cursor. It is accessible by the [[Map]] or the [[EPF Spy Phone]].

 
 
 
 

==Dojo Exterior==

 

==Dojo Exterior==

Line 22:
Line 20:
 
 
 

==Gallery==

 

==Gallery==

−

<gallery captionalign="left">

+

<gallery>

 

Image:Dojoxmas.JPG|The Dojo Courtyard decorated for the 2008 Christmas Party.

 

Image:Dojoxmas.JPG|The Dojo Courtyard decorated for the 2008 Christmas Party.

 

Image:Dojoext af09.png|The Dojo Courtyard during the [[April Fools Day 2009|April Fools Party 2009]].

 

Image:Dojoext af09.png|The Dojo Courtyard during the [[April Fools Day 2009|April Fools Party 2009]].

Line 33:
Line 31:
 

File:Stormy Courtyard.PNG|The Dojo Courtyard during the possible Halloween eve.

 

File:Stormy Courtyard.PNG|The Dojo Courtyard during the possible Halloween eve.

 

File:Newcourtyard.jpg|The Courtyard where goldsmiths can make [[Amulet]]s.

 

File:Newcourtyard.jpg|The Courtyard where goldsmiths can make [[Amulet]]s.

−

CJ Water Hunt Courtyard.PNG|Dojo Courtyard During the Water Dojo construction

 
−

File:Dojocouryard10water.PNG|The Dojo Courtyard during the [[Celebration of Water]]

 
 

</gallery>

 

</gallery>

 
 
Line 49:
Line 45:
 

|North = [[Dojo]]

 

|North = [[Dojo]]

 

|Northeast =

 

|Northeast =

−

|East = [[The Wilderness]]

+

|East =

 

|Southeast =

 

|Southeast =

 

|South = [[Map]]

 

|South = [[Map]]
---
Revision as of 21:16, 10 January 2011
Dojo Courtyard

Information
Where
Outside the Dojo.
Opened
Dig Out the Dojo 2008
Closed
Still open
Mini-games
None
Room ID
?
Tour Description

This is the Courtyard. It was covered in snow for many moons! Enter the Dojo and take the path of the ninja.
The Dojo Courtyard is the entrance to both the Dojo and the Ninja Hideout. You can either go inside the Dojo or into the Ninja Hideout; if you're a ninja. The door to the Ninja Hideout is behind the stone tablet with strange writing written on it. If you are a ninja, you can enter the wooden door if you move your cursor. It is accessible by the Map or the EPF Spy Phone.
Dojo Exterior
The Dojo Exterior was first covered with snow when the first construction work at the Dojo began. After the 2008 Halloween party, part of the Dojo broke, producing a hole in the top left corner which you would either walk up to or click to enter the Dojo Exterior. The name of this covered-up snow was discovered when the room is loading it said the Dojo Exterior. But when you would click 'Find' on someones player card on your buddy list, it would say Dojo Roof. The Dojo Exterior had a mysterious gray-colored Penguin digging up snow. His name was "The Sensei", however officially now known as Sensei, which means "master" in Japanese and is possibly used in kung-fu and other Japanese martial arts.
Trivia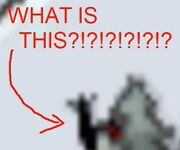 Gallery
External links
See also
Community content is available under
CC-BY-SA
unless otherwise noted.