Experimental Penguins

Information
Platform
Browser
Developer
Rocketsnail Games
Publisher
Rocketsnail Games
ESRB rating
Not Rated
Genre
MMOG
Date released
July 30, 2000[1]
Experimental Penguins was a game released in the year 2000. It was a multiplayer game/chat, similar to Club Penguin and Penguin Chat 3, and it was made around the time of Rocketsnail Games. Experimental Penguins was the original Penguin Chat.[2]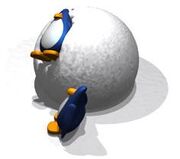 Gameplay
Players would join as a normal, blue penguin, while in a different edition of Experimental Penguins, you would be able to wear a santa hat. Developers would get a Snow Trekker to roam around the island (the players would also get it by touching the North Pole in the game).
History
Experimental Penguins stayed up for less than a year, but it got several awards. It closed down in December 2000,[3] and then Penguin Chat was released a few years later.
Ballistic Biscuit reference
In February 2001,[4] in the game Ballistic Biscuit (now known as Hydro Hopper in Club Penguin) a blue penguin from Experimental Penguins could be seen in the boat during gameplay.
Trivia
It was made by Rsnail.
Rsnail said on his Twitter account that it was a test on Flash 4[5] to see if it could do Multiplayer Games.
Before it closed in December 2000, over 2,000 penguins came online daily.[3]
Gallery
Links
References
External links
Games
Toys
Media
Conferences
Related