Fairy Fables

Information
Plot
Twee tells a story about a prince bringing croissants to a princess, but the Big Bad Wool gets in the way.
Dates
November 21, 2008
June 12, 2009
January 7, 2010
September 16, 2010
September 15, 2011
May 17, 2012
September 12, 2013
June 5, 2014
Characters
Twee, Prince Redhood, Big Bad Wool, Grumpunzel.
Music
Fairy Fables Music
Background
Fairy Fables Background
Fairy Fables was a Stage play in Club Penguin. It first premiered at the Stage in November 2008 and since then, Fairy Fables had seven encores.
Characters
Description
Once upon a time ... ... There lived a fairy storyteller called Twee - that's me! I live in a magical library where I tell no ordinary story tales. I like to mix things up a bit. It's a tale of twos you might say! So buckle up and get ready for the ride! This is the tale of a prince all dressed in red who goes riding though the forest to take some croissants to a princess with really long hair. I like to call it 'The Enchanted Forest'.
Script
Fairy Fables
Twee
Once upon a time a prince was dressed all in red...
Prince Redhood
Red?! Are you sure? It's not really my color.
Twee
Don't interrupt! I said he was dressed in RED!
Prince Redhood
Oh. All right, then. What a lovely day!
Twee
He was taking croissants to a hungry princess.
Prince Redhood
Golly, I hope she like pastries.
Twee
But suddenly, something jumped out of the trees!
Prince Redhood
Oh no! A scary looking sheep!
Big Bad Wool
BAA! I am the Big Bad Wool an I'm hungry!
Prince Redhood
What great big teeth you've got!
Big Bad Wool
All the better to eat croissants with!
Prince Redhood
No chance, woolly! They're for the princess.
Big Bad Wool
Well, then I'll huff and I'll puff...
Twee
And the Big Bad Wool blew all the trees down.
Prince Redhood
Oh no! What am I going to do?
Twee
You need to distract the sheep, of course!
Prince Redhood
Oh yes. Look over there!
Big Bad Wool
A unicorn flying through the sky? BAA-zaa!
Prince Redhood
Aha, now I can escape!
Twee:
Finally the prince arrived at the castle.
Prince Redhood
Now I will climb up Grumpunzel's long hair.
Twee
You'll have to make do with a ladder.
Prince Redhood
If I must...
Grumpunzel
La la la la...
Prince Redhood
She's totally lost in la la land. What do I do now?
Twee
Throw a magic snowball at her, of course!
(Prince Redhood throws a snowball at Grumpunzel)
Grumpunzel
Oi! What do you think you're doing?
Prince Redhood:
Princess! I've brought you some croissants!
Grumpunzel
Croissants? I asked for COOKIES!
Prince Redhood
Guess they don't call her Grumpunzel for nothing.
Twee
I think she should go back to la la land. ZAP!
Big Bad Wool
BAA! Excuse me! I'm really hungry here!
Twee
Well there are plenty of croissants to go 'round.
Prince Redhood
You'd better not wool them all down at once.
Twee
And they lived happily ever after.
THE END.
Trivia
This stage play had a story book, which also tells the same story as the script.
It won the Penguin Play Awards 2009 for "Best Costumes".
Grumpunzel is based on Rapunzel.
Prince Redhood is based on Little Red Riding Hood.
Big Bad Wool is based on the Big Bad Wolf.
Twee is a possible fairy.
In the book The Big Bad Wool said "A flying unicorn on Thursday? BAA!" In the play "on Thursday?" was taken out.
This play was a nominee for the 2010 Penguin Play Awards.
Penguin Play Awards
Penguin Play Awards 2009
During the Penguin Play Awards 2009, Fairy Fables won the prize for Best Costumes.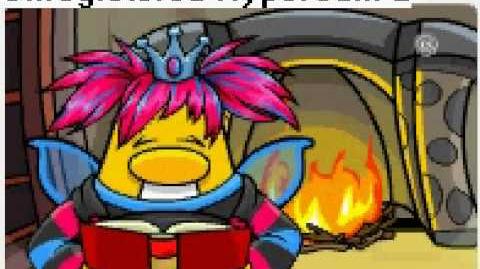 Penguin Play Awards 2010
During the Penguin Play Awards 2010, Fairy Fables was nominated for the categories and a special video was made promoting it. There were several lines for Twee and the Big Bad Wool set out in the script and many penguins believed it would win. It did not win any categories.
Gallery
Ads
Characters
Catalog
SWF