For other subjects related to Fluffy the Fish, see Fluffy (disambiguation). For other fish, see Fish.
For the Club Penguin Island counterpart, see Fluffy the Fish (CPI).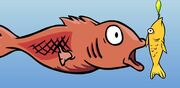 Fluffy the Fish (a.k.a. Yellow Fish) were small yellow fish who were also recurring characters that appeared in games, missions, rooms, and even on the main currency, the coin, throughout Club Penguin.
Fluffy the Fish Game
Main article: Fluffy the Fish (game)
Fluffy the Fish was a game for Club Penguin's Beta Team game testers. It was a fun mini-game where the player controlled a Fluffy to eat the smaller fish, thus growing in size after eating so many. The player could use the arrow keys and mouse.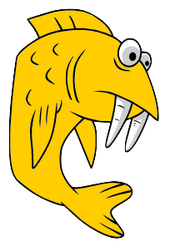 Appearances
Trivia
Gallery
References