Here's an archive on White Puffles from February 2009. Dancing Penguin (Talk!) (Contribs) (Edits)
White Puffles
White Puffles can currently be bought in the Pet Shop as of March 6th, 2009. The following article was from input before they came out, but then was updated and has current information about them.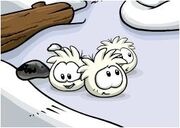 White Puffles are a mystery with an unknown origin. They were seen for the first time at the Ski Hill and the Dojo Courtyard at the Puffle Party 2009 . It was based on appearing in select rooms every 30 minutes, but it's server-side so everyone sees it at the same time. It worked like this: in the Ski Hill, it appeared at 12: 15, then 12:45, then 1:15, and the circle continued. In the Dojo Courtyard, it appeared at 12:00, then 12:30, then 1:00. One of the main reasons that this puffle hasn't been discovered until recently is because since it's white, so it can blend in with the snow, making it almost invisible. It doesn't appear at the Courtyard or Mountain anymore, but it does appear in Puffle Roundup. White puffles are smaller than regular ones; this probably explains why they are slower. They are currently available to buy from the Pet Shop for Members.
Characteristics
Attitude: Gentle and strong.
Favorite toys: Ice skate.
Special features: Can turn anything into ice with a breath. And nice hiding skills
Appearances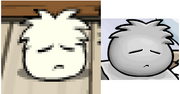 It first appeared at the Dojo Courtyard, out from the bushes, looking kind of sneaky, which means it could possibly be related to Ninjas or Sensei.
The Ski Hill appearances were confusing, yet Sensei did come from Club Penguin after a long journey after finding "a hill". The puffles could also of traveled from the Dojo there, because the Dojo and the Ski Hill are quite close.
When Rockhopper came to Club Penguin on Febuary 27th, 2009, if you clicked on his Notice Board, and look at the bottom left picture, you can see a White Puffle hiding behind a rock.
They appear in the game Puffle Roundup but they don't appear as often as the other puffles do. They're the slowest moving puffles in the game.
They are now in the Puffle Catalog and are being walked around by many.
Trivia
The White Puffle had been a rumor for some time, along with the Orange Puffle, and the Rainbow Puffle. Many people have edited and faked this puffle, but they were able just go to either room at 30 minutes past any time and it will pop up from somewhere.
In the Forest during the Puffle Party 2009, there was a ball pit with all the colors of existing Puffles, plus some white colored balls. This highly suggests that the white puffle will be a new puffle.
The White Puffle is smaller than normal puffles.
When you dance with a white puffle a cloud forms over its head and it snows.
In the "What's New" blog , Billybob mentions a mysterious puffle, probably the White Puffle, and the blog after that one, Billybob states that he heard about penguins who have spotted white puffles.
This puffle was stated as a rumor in issue number 175 of the Club Penguin Times. It was called the "Mysterious White Puffle".
People have claimed to see it in the Forest, like the Yellow Puffle, this has not been confirmed.
In the newspaper, issue #177 it says that the White Puffles are incredibly powerful.
Many players hypothesised the coming of White Puffles long before they were available as pets.
Lots of people made fake Youtube videos showing how to get them, but these were all fake.
They are not in Series 4 either.
They are most likely ninja puffles, since they slice their cookies and sleep like the stone puffles.
The White Puffle was introduced in the first downloadable mission on the Club Penguin game, Elite Penguin Force, on 6th November 2009.
Gallery
See Also
Discussion
I think we should delete this page because it's not really fair since we don't have articles for the other puffle types. What do you guys think? ~~Bluehero~~
I'll say no more. --Metalmanager The Hedgehog 23:45, 20 February 2009 (UTC)
Delete it when you can buy white puffles!~OOJH123 20 February 2009 (UTC)
No, we don't delete it when they're available, we move it to archive like we did with the yellow puffle one. --Metalmanager The Hedgehog 23:50, 20 February 2009 (UTC)
Ok.~OOJH123 20 February 2009 (UTC)
Ok. Good idea. ~~Bluehero~~

You could also put some of the information in the Puffle Party article Hypercpp 14:13, 21 February 2009 (UTC)
I've seen this kind of article before. We delete the page when the puffle is purchasable, but we ARCHIVE this... a qhit puffle! WHO KNEW? :) --† कछुए मशरूम! Jesus Loves You and Died for You!! †  :)  :) Absoulte Energie, der gefürchtete Schildkröte-Pilz, Diktator der Penguin-Enzyklopädie † 12:45, 21 February 2009 (UTC)


I think we should do articles of all the puffles, say their caracteristics, if their popular, for members or for everybody, if they play a minigame at club penguin,etc. and erase part of the puffles article (the one that says some characteristics).--Ratonbat 18:30, 23 February 2009 (UTC)
White and yellow puffles
Havent you noticed that when the white puffle appears at the mountain, it appears at the same place where the yellow puffle was when it was halloween!Strange!--Ratonbat 18:26, 23 February 2009 (UTC)
I know exactly what the White Puffle will be like! Let me know on this page if you want to know... --Metalmanager The Hedgehog 19:15, 23 February 2009 (UTC)
I think we should take off the part that says that the puffles not pink because I think it's obvious. People can figure some things out for themselves. ~~Bluehero~~
Well some people may hear rumors, seen as the White Puffle has been a myth so long, they may actually believe that it is a snow-covered Pink Puffle. ~~SamLane1~~
When i saw for first time an image of the white pufle, i faught it was pink, and a user had created this article, but then, when i printscreened the image i saw it was white, so i think we dont have to take the part that says it isnt a pink puffle.--Ratonbat 21:33, 26 February 2009 (UTC)

style="color:gray">Hedgehog</span>]] 21:36, 26 February 2009 (UTC)
What will it be like Metalmanager?
Ok, It will be a mix between the blue puffle, the black puffle and the red puffle, loyal yet rebelious, adventuroues and athletic, but also with a tiny bit o' yellow in there, to give it an artistic, quiet, feature to it. When you walk it and dance, it will disappear like you do with the ninja costume on. It will play with either Card Jitsu cards or a sled tube. With the cards it will cast a different spell everytime, snow, water or fire, and make it appear in front of him. As for the sledding, he will jump onto the red tube, start sledding, but then a log appears, and it falls on it. Or, sometimes, it wins and gets a medal. When it sleeps it will summon two ninja puffles to guard him. When it eats, it will take out a fire card, warm it, take out a water, boil it, then eat it. When you bath it it will appear as an empty bath so he takes out a water card and puts in the water. Hope this helps, if I'm wrong, it's my bad XD. --Metalmanager The Hedgehog 17:47, 27 February 2009 (UTC)
How do you know that??? When will it be adopted? Where will it be adopted? --21uɐɟɟɐʇs

ʞןɐʇ ʎɯ 23:57, 27 February 2009 (UTC) !
He is just guessing.--   ₪ ΔĢєŋŦGεиιυς  16:02, 1 March 2009 (UTC)
No, he said "I know exactly what it will be like!". --21uɐɟɟɐʇs

ʞןɐʇ ʎɯ 16:42, 1 March 2009 (UTC)
Hidden
In rockhopper do list if you look closely you can see a white puffle and in puffle round sometime you capture a white puffle. Brendan7195 Viva la Wii
White Puffle Evidence
I think it's kinda pointless to have a white puffle evidence page and still be putting evidence on this page. I think we should either combine the two pages or have all the evidence on just the white puffle evidence page instead of having it on both pages. What do you guys think? ~~Bluehero~~
I think we should delete the Puffle Evidence page because it's kind of a duplicate page. --21uɐɟɟɐʇs

ʞןɐʇ ʎɯ 14:09, 1 March 2009 (UTC)
Yea but I think we should combine them instead of deleting them. For example we could have white puffle appearences, evidence, and trivia. Oh and btw we need to be more careful when were adding stuff to the trivia section because a lot of people have been repeating things that are already in the article. ~~Bluehero~~
I think it's a good idea. --21uɐɟɟɐʇs

ʞןɐʇ ʎɯ 14:17, 1 March 2009 (UTC)
It's probably a member puffle, because CP have been promoting memberships for the last few months:( CatZip888 21:46, 2 March 2009 (UTC)
they need a new puffle for non members! --Gamgee 23:44, 3 March 2009 (UTC)
GAMGEE'S RIGHT! --$harkbate DON'T MESS WITH MR. HAPPY! 00:07, 4 March 2009 (UTC)
it feels like Club Penguin is a Demo now! --Gamgee 02:45, 4 March 2009 (UTC)
Yeah. It's a disappointment that it's only for members. --Sonicspine31 TALK 2 ME! 03:02, 4 March 2009 (UTC)
I agree I hate it when they give a big week thing up to it then they are member only did you now there going to have another member party--Dannflow

Talk! 20:08, 4 March 2009 (UTC)

It's a member puffle :( --CatZip888 22:46, 5 March 2009 (UTC)
I see a different veiw on all of this. Us members pay money every month (Or 6 months or year)so we derserve to have that, especially considring the amount of money the average home can spend these days. So we deserve that, since we pay our own money!!!! [:-)--Lovebirds211--Do it for the pi. 23:28, 5 March 2009 (UTC)
Community content is available under
CC-BY-SA
unless otherwise noted.