Archived version of the Yellow Puffle article as of November 2007. Dancing Penguin (Talk!) (Contribs) (Edits)
Yellow Puffle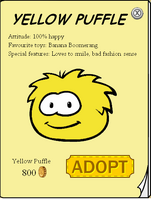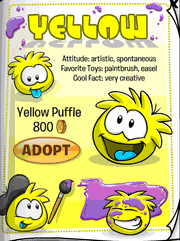 Yellow Puffles were once a rumor in Club Penguin.
The rumor was started when the library book, Penguin Tales 2007, was released. It included a story known as, "The Legend of the Golden Puffle", which sparked the controversy. In the story, a penguin that is mining for gold finds a supposedly "Golden" puffle and takes it to The Penguin Times, which makes it the head article for the next newspaper. The owner of the puffle reads the article and goes to The Penguin Times, telling the manager that the gold puffle was actually a blue puffle in yellow paint.
Current information
See Yellow Puffle.
As of November 30th, 2007 Yellow Puffles are now adoptable in the Pet Shop, but only members can get them.
Trivia
This Puffle has the same story as the White Puffle.
On June 22nd, 2009, the Club Penguin Team announced that Yellow Puffles are quite enthusiastic about the update to the DJ3K game.
The rumor started even before the library book, Penguin Tales 2007 was relesed.
In the Forest, during the 2007 Halloween Party, they could be observed hiding in low lying shrubbery.
When the construction on The Stage began in November 2007, a yellow puffle could be seen every fifteen minutes.
If you went to the Stage before November 30th and move the mouse over the two top puffles, a yellow puffle would appear in the balcony.
In the play "Ruby and the Ruby".The yellow puffle was inside the train.
It could be the golden puffle.
Gallery of Yellow Puffle Appearances
See also
Discussion
Community content is available under
CC-BY-SA
unless otherwise noted.