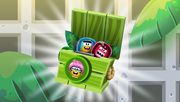 Fossil Four is a two-player connection strategy party game in Club Penguin Island. It was released in the 1.6 update. It can be played by using the party supply of the same name, for a price of 30 coins. It is activated by a player using the party supply, which causes them to hold up a box. If another player interacts with the box, the game is initiated.
The game can no longer be played as of Club Penguin Island's discontinuation on December 20, 2018, due to Offline Mode lacking multi-player functionality.
Gameplay
After the game is initiated, the two players are randomly assigned a color, either blue or red. The first player assigned to be blue goes first, and makes their move. The player assigned to be red goes second. The cycle continues until one player wins or there is a tie.
Each player has 20 seconds to make their move. While making their move, one column in the 6x7 game board is selected. The column can be changed by pressing the left or right buttons in the bottom left corner of the game screen. A colored piece can then be placed in the highest available space in that column. In order to win, four pieces of the same color need to be formed in a row, either vertically, horizontally, or diagonally.
If a player manages to connect four of their own color in a row on the board, they win. The winner receives 30 coins and 15 Aunt Arctic XP, and the loser receives 20 coins and 10 Aunt Arctic XP. If the all spaces on the board are filled, it is counted as a draw, and both players receive 20 coins and 10 Aunt Arctic XP.
Trivia
Prior to the 1.7.1 update, this game cost 40 coins instead of 30.
Prior to November 1, 2017, the rewards were 30 coins and 5 XP (winner) and 20 coins and 3 XP (loser).
Gallery
Sneak peeks
Icons
Names in other languages
| Language | Name | Description |
| --- | --- | --- |
| Portuguese | Fóssil Quatro | Vença o adversário em sequências de 4 |
| French | Quatre historique | Bats ton adversaire au Puissance 4 |
| Spanish | 4 en fila fósil | Supera a tu oponente en 4 en fila |
Community content is available under
CC-BY-SA
unless otherwise noted.