Conjecture
The subject of this article does not have an official name, and as such, it has a conjectural title.
Not the article you were looking for? Check the disambiguation page.
The Gift Shop Computer is the computer located in the Gift Shop Manager's Room. It contains:
All of which can be found on a floppy disk, underneath the couch in the Gift Shop Manager's room.
Operating System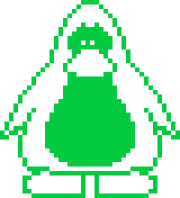 The computer's operating system is Penguin Operating System 2.0 or Penguin OS 2.0, which is a DOS. It looks like a Windows '98 or a Mac System 6 system. The logo also resembles Tux, the Linux mascot. The only game available is Ice Bricks.
Trivia
Gallery
See also
SWF
Community content is available under
CC-BY-SA
unless otherwise noted.