The Halloween Party 2007 was Club Penguin's 3rd annual Halloween Party. Players could get the Pumpkin Basket for the first time and participate in a scavenger hunt, which prize was the Halloween Scarf. Like the Halloween Party 2006, a solar eclipse made the island dark for the party. Night Of The Living Sled was introduced during this party.
Yellow Puffle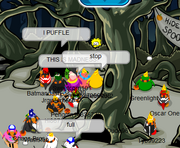 It was during this party that the Yellow Puffle was seen in the wild for the first time. It could be seen at the Forest or at the Ski Hill, in which it only appeared for a few seconds. Yellow Puffles became available to members in November of that same year.
Free items
Trivia
This was the first Halloween Party to have a candy scavenger hunt.
This was the only Halloween party to give a free item other than a background from the scavenger hunt.
This was the first Halloween party to mark the first appearance of a puffle, the second was the Halloween Party 2014.
This party marked the first appearance of Yellow Puffles.
This was the last Halloween party in Club Penguin that the sky was darkened by an eclipse. The sky during the following Halloween parties were darkened by storms.
Gallery
Sneak Peeks
Issue 104
Rooms
Other
See also
SWF
Music