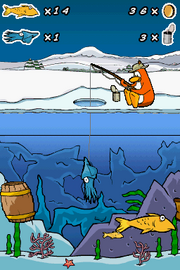 DS Ice Fishing is a mini-game for the Nintendo DS (Dual Screen) game, Club Penguin: Elite Penguin Force. It is widely similar to the original Ice Fishing online, and is played using movements of the DS stylus. However, unlike the original Club Penguin Ice Fishing, you can catch squid, as well as fish. The squid is quite helpful in retrieving the treasure chest at the end of the game.
Secrets
Squid
Fish
Trivia
If you collect only Fluffy the Fish you can try catching the Mullet.
If you collect only Squid you can try catching the Giant Squid.
In Elite Penguin Force Mission 10, Damage Control, you need to help Jet Pack Guy retrieve some blueprints that were hidden underwater (in the treasure chest) by playing Ice Fishing.
The mullet is much bigger then the online version as if fills up the upper 1/4 of the screen.
See also