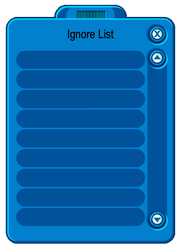 The Ignore List is a list that can be accessed by clicking the gear emoticon in the Toolbar; then on the skull icon. To ignore a certain penguin, click on the skull icon on their Player Card. Once a player is ignored, you cannot see the ignored penguin. However, somehow you can still see emoticons of the ignored player, and you can't send ignored people mail or buddy requests until you remove them from your list. The ignore list can hold up to 100 ignored players, just like the Buddy list. It used to be that, when you report a player, the player you reported will automatically be put on your ignore list. Now you can just report people and they don't have to go on your ignore list. You can delete people from your ignore list by clicking on their Penguin Name in the list. You are not able to see their Player Card by clicking on their name in the list.
If you decide to become a buddy with someone on your ignore list, then that penguin will no longer be on your ignore list.
Trivia
There was once a skull emote which was the same as the Ignore icon, but it was removed by the Club Penguin Team because it frequently caused arguments.
Some penguins often add famous penguins, moderators, bloggers, and Beta Testers to their ignore list as proof that they have met them, because many famous penguin's buddy lists are full.
It used to be if you reported a penguin that they would automatically be on your Ignore List. However, after an update, this was removed.
When you click on a penguin on your Ignore List, it won't view their Player Card, it will just ask if you want to remove the player from the list.
You cannot add your Buddy to your ignore list. You need to un-buddy them to do so.
There is no Ignore List on a mod because the Skull icon would instead perform on the Player Card the "Kick Player" feature. This feature can temporarily remove, or "kick" a penguin from a server as a warning.
As of October 28, 2011, the Ignore List is accessible through the "Edit Account" button, instead of one of the tabs on the Buddy List.
Gallery
See also
Community content is available under
CC-BY-SA
unless otherwise noted.