For the EPF storage facility that was also abbreviated as ICE, see Impenetrable Containment Environment.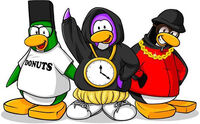 The Internal Community Encyclopedia[1] (I.C.E) was the internal wiki of Club Penguin that was used to keep track of the history of Club Penguin,[2] accessible only by the Club Penguin Staff. It was launched on March 6, 2008.
It is unknown as to whether I.C.E was used for Club Penguin Island.
References