Not the article you were looking for? Check the disambiguation page.
Jet Pack Adventure

Information
Players
1
Controls
Arrow keys (steer)
Minigame location
At the Beacon edge
Date released
November 6, 2006[1]
Date closed
March 30, 2017
For the DS game, click here. For the Club Penguin App exclusive game, click here.
Jet Pack Adventure was a Club Penguin mini-game that could be accessed from the Beacon. If the player reached to the end of Level 5, they would land in the Mine. If a player lost before the end of the game, they would land in the room they were flying above before they lost, which was unknown when you were flying.
Players traveled from location to location using a jet pack, collecting coins along the way. Players carried an extra jet pack as a precaution if they run out of fuel, and more jet packs could be collected. However, if the player ran out of jet packs, its penguin would fall then use a parachute to land safely (in the Mine levels, the parachute would get stuck on a stalagmite). Extra fuel could be collected, but you had to watch out for anvils and coffee bags. Another occasional obstacle would come, such as a shark.
Players could send a postcard to a friend to go on a Jet Pack Adventure (which sent the player to the Beacon). On July 26, 2010, the game was changed so only the first level of Jet Pack Adventure was playable for non-Members. Only members could play the entire game due to the addition of the new stamps that were released that day. Another change was that the home-screen was updated. As of September 13, the player's Green Puffle could assist during flights, it would fly around the screen collecting coins and fuel cans.
Stamps
Easy
Medium
Hard
Extreme
Obstacles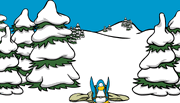 There were many obstacles in the game, specifically designed to slow the player down and make them lose fuel. Here is a list of all of them:
Order of locations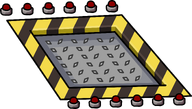 Secrets
Glitches
Trivia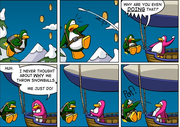 Gallery
Obstacles
Other
Names in other languages
| Language | Name |
| --- | --- |
| Portuguese | Aventura a Jato |
| French | Aventure Jet Pack |
| Spanish | Aventuras en jet-pack |
| German | "Jet Pack"- Abenteuer |
| Russian | Турбо-виражи |
SWF
References