This Article is Out of Date
This article needs to be updated. One or more events have happened, and are not included.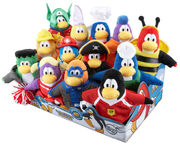 Limited Edition Penguins are plushes based on the penguins of Club Penguin. They are made by Jakks Pacific. Each plush in each series comes with a Coin Code, so you can unlock two items of your choice from the Treasure Book of the series the toys are from. Through the year Club Penguin wants fans to take photos of them with their penguins.
Trivia
There was a contest where people could win a special Viking Penguin plush.
The first time penguin plushes were found on the Internet was on Amazon.com in August 2008.
The Rockhopper plush toy, which was discontinued in series 1, returned in Series 3 of the Treasure Book. This was confirmed by Billybob on the What's New Blog.
If you unlock 5 toys in a row, you can access the secret page in the Treasure Book, with 4 unlockable items.
The Santa penguin from the first series has a Red Hoodie instead of a Santa Suit as in series five.
You could take their clothes off but not the ones that stick to the penguin.
Each series kept decreasing the amount of penguins per series until Series 3. Series 1 had 15 plushes, Series 2 had 13 plushes, and Series 3 onward had 7 plushes. The reason why is unknown.
Gallery
Specials
Series 1
Series 2
Series 3
Series 4
Series 5
Community content is available under
CC-BY-SA
unless otherwise noted.