Mancala


The Mancala board on a table.
Information
Players
2
Controls
Mouse
Minigame location
Coffee Shop (August 22–23, 2005)
Book Room (since August 24, 2005)
HQ (November 2005–February 2006)
Date released
August 22, 2005
(Beta Testers)
October 24, 2005
(Everyone)
Date closed
Still Open
Mancala is a mini-game in Club Penguin. It is one of Club Penguin's oldest games. During Beta Testing it was playable in the Coffee Shop, however, soon after it was moved to the Book Room. Only 2 players can play it, and the objective of the game is to collect from the board more stones than the opponent, before one of the players clear his side of the board. It is based on the real life game Mancala.
Mancala was also a game which used to be available on the rocketsnail games website, this being why it is on Club Penguin. This game was on RocketSnail.com and in Club Penguin.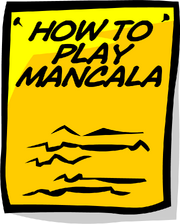 How to Play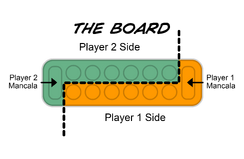 Players alternate turns. In his or her turn, each player selects a group of stones from one hole on his or her side of the board. Each stone is dropped one by one in the holes around the board, including his Mancala, but not the opponent's Mancala.
How to Win
This game is over when a player has no more stones on his or her side of the board. The winner is the player with the greatest total number of stones in his or her mancala and any remaining stones on his or her side of the board.
Objective of the Game
Each player attempts to collect as many stones as possible before one of the players clears his or her side of the stones.
Trivia
Mancala was in the Coffee Shop during the first beta testing day, and was moved to the Book Room after two days.
In November 2005, Club Penguin added a mancala table in the HQ, however it was removed in February 2006 for an unknown reason.
Just like Find Four, players are able to watch other people play this game.

The feature to watch other people play, was added on January 25, 2006.

This was the first multiplayer game in Club Penguin and is still very popular. Despite this, however: some new players may not understand Mancala.
It is Captain Rockhopper's favorite game.
Mancala is the 2nd game in Club Penguin to have once existed on Rocketsnail.com. The other is Hydro Hopper.
There used to be five Mancala tables when it was in the Book Room, but after it was remodeled, one table was removed.
In June 2005 the Club Penguin version of Mancala was released on Rocketsnail Games to have a public beta test.
It was voted "Game of the Year" for 2006 in The Penguin Times.
An actual replica of the Mancala board was sold in the Disney Store in 2008.
Gallery
SWF
External links
Community content is available under
CC-BY-SA
unless otherwise noted.