Not the article you were looking for? Check the disambiguation page.

The Medieval Party 2012 is the 5th Medieval Party on Club Penguin. During the party the entire island was decorated. All the Knight's Quests were accessible, while the first quest was accessible for Non-Member. Members could also defeat Scorn the Dragon King in a new quest, which was accessible from the Ski Hill.
Items
Free Items
* were available for Non-Members only from May 24
Others
Main article: Medieval Catalog#2012 Items
Description
From Disney's UK Website:
Heroes Needed! Scorn the Dragon King, the evil Dragon King has taken over Club Penguin, leaving the entire island in a state of destruction, dark shadows, and ruins...
Join your friends on Club Penguin, gather your forces and rise up together to reclaim your land! Membership heroes can search for the magical items from three islands on the new quest map. Visit the Fairy Forest, the Mushroom Kingdom, and the Royal Kingdom Ruins. Collect all the scavenger hunt parts, challenge Scorn, and reclaim the magical Sky Kingdom! Help defeat the evil Dragon King!
Trivia
Glitches
In the first morning, there was very bad glitch. All free items were for Members only, you could not go to the Sky Kingdom, and you could not do the quests. In the afternoon (on May 17, 2012), the glitch was removed. This glitch returned again on May 19, 2012.
There was a glitch where Non-Members could do Ye Knight's Quest 2 and Ye Knights Quest 3. This glitch was later removed.
There was a glitch where a limited amount of Non-Members could get the Medieval Party 2012 Scavenger Hunt and defeat Scorn the Dragon King.
There was a glitch that the music in the Cove and the Iceberg have the same music from the Puffle Party 2012. This glitch wasn't removed.
There was a glitch in the Dragon's Path where you would hear a screeching noise if a rock tumbled down and if you went into the second cave (the higher one), it would happen there, too. This glitch was never fixed.
There was also a glitch at the beginning of the party where if you waved while wearing only the Thunder Blade, you would turn Old Blue, wear a gray belt, and do a Card-Jitsu pose while the sword floated in mid-air.
If you click Gary and click your player card quickly, Gary is in your player card with the items you were wearing.
Pins
Gallery
Sneak Peeks
Advertisements
Home page
Login Screens
Logoff Screens
Construction
Rooms
Scorn Spotted
Clues
Membership pop ups
Videos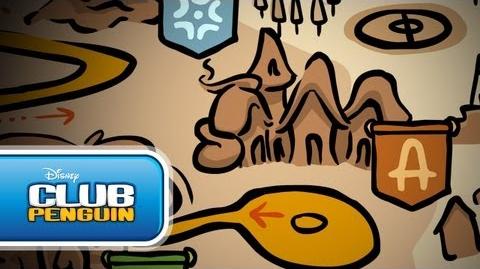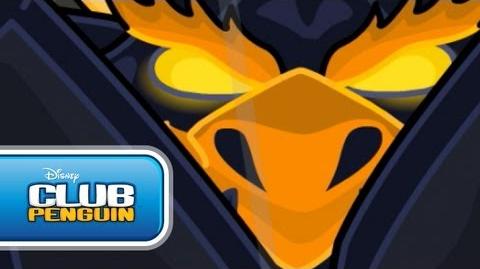 SWF
Music
See also