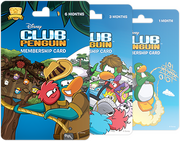 Membership cards, also known as Game Cards, are real life gift cards that can be purchased for membership on Club Penguin. This is one of the simplest ways to become a member, although they are an uncommon method of attaining membership. These days people just use credit cards like PayPal.
How It Works
By late December 2007, the cards were sold in Target/SuperTarget stores, Toys 'R Us stores, Walmart superstores, CVS Pharmacies, Best Buy stores and Rite Aid Pharmacies nationwide (United States), and in Sainsbury's (United Kingdom) in the following months [1]. To be a member using these cards, you will still have to pay the same membership fee. It is possible to get Membership cards free from sites. More Recently, supermarkets in Brazil and in the European Union are able to obtain Membership cards and the items they give.
There are four different cards: one month membership card, three month membership card, six month membership card, and one year membership card which is only available on Amazon. Once they have a card, you have to enter the given code, like the standard way of paying for membership. Upon entering the code online, they will be a member instantly. But the code can only be used once and refunds are not allowed after you have used the code.
Unlocks
Recently, unlockable items have come with membership cards. Here is a list of them.
Gallery
See also
External links