Unlock Items
This article is about a merchandise that could unlock items.
This page is incomplete!
This page is a stub. You can help by expanding it as soon as possible, then removing this tag.
Merchandise was a line of real life clothes, toys and games that could be bought from the Club Penguin online store, or from selected stores in real life, some include a code. Some of the merchandise which were available are:
Limited Penguins
A plush penguin. There are many different varieties from many different series.
Rule of the thumb goes: The lower the series, the rarer the plush.
Mix-And-Match Figures
Small penguin figures that have 3 interchangeable parts. Mascots do not have interchangeable parts at all.
Clothing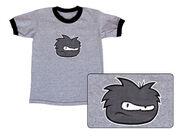 A wide variety of clothing, such as hats, hoodies, and shirts are available that feature different Club Penguin designs.
Puffle Plush
Available in three different sizes, these plush toys look like puffles. Jumbo puffle plushes came out in 2012.
Pendant Chain
An interchangeable necklace.
Club Penguin Trading Cards
Video Games
Video games such as Herbert's Revenge, Elite Penguin Force and Game Day.
DS Skins
Several different skins for the Nintendo DS.
Books
Several different books on Club Penguin, including The Official Guide to Club Penguin, Secret Agent Handbook, The Official Stage Playbook and Stowaway!: Adventures at Sea.
Mancala
A real-life version of Mancala.
Backpack
A backpack featuring an image of your choice, out of several options provided.
Fast Flippers Card Game
A card game called Fast Flippers. This is separate from the trading cards.
Handbag
A handbag featuring many different penguin colors.
Watch
An LCD watch with a miniature snow globe.
Puzzles

A ball shaped puzzle with pictures of Club Penguin Island, as well as a puzzle featuring the Iceberg.
Puffle Trading Cards
A special series of the Card-Jitsu trading cards. It features 30 cards all to do with puffles.
Puffle Beanbag Chair

It's a beanbag chair that looks like a puffle! It only comes in blue though. They were available for only 1 or 2 weeks on April 2009 selling at $50.00 and are currently discontinued.
Christmas Ornament

A Christmas ornament of a blue penguin that is juggling three puffles.
Zazzle
Merchandise got an expansion on November 20, 2013, consisting of mousepads, custom T-shirts and sweatshirts, iPad/iPod cases, etc. Which could be accessed here.
Gallery
See also
External links