This page is incomplete!
This page is a stub. You can help by expanding it as soon as possible, then removing this tag.
Future event
This article is about something that will occur in Club Penguin in the future. Things are subject to change.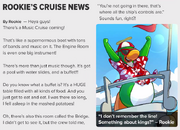 The Music Cruise is a giant, luxury party cruise line, hosted by Cadence. It is for fans of music and multiple artists to celebrate. It is to appear at the Music Jam 2014.[1]
It is told by Rookie in issue #455 that there will be swimming pools with water slides, and a huge table filled with foods.
Trivia
There is a Music Cruise Background.
Club Penguin said that we can't see the ship heading to us in the beacon telescope because Cadence had to make a few different stops along the way here to pick up all of the other penguins that are coming with her, which means that she will be taking a different route to the Club Penguin Island.
Sources and References
Community content is available under
CC-BY-SA
unless otherwise noted.