Conjecture
The subject of this article does not have an official name, and as such, it has a conjectural title.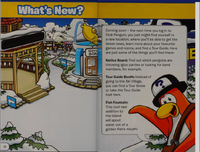 The news room was a cancelled room in Club Penguin. It was first shown on page 18 of The Awesome Official Guide to Club Penguin, where it was labeled as "coming soon". This was planned as a sneak peek for the room, exclusive to the book.[1] Due to developers being too busy with other projects at the time, the room was never made.[2]
According to info on the room's page in the guide, the room would have contained a Fluffy the Fish fountain, a Tour Guide building, which would have been a replacement for the Tour Booth in the Ski Village, and a gazebo of some sort. There would have also been news board used for finding igloo parties, that would have allowed players to create posters to put on the board.[2]
The room was designed to serve as an introduction to the game, geared towards younger players. This general concept was later used as the Welcome Solo room. One idea for the room was to have a balloon ride that would show various rooms on the island. This idea was later repurposed for the Hot Air Balloon Ride and Santa's Sled.[2]
Trivia
According to Polo Field on Twitter, the Town's redesign from 2012 incorporated elements from this room. These elements were purely decorational and so, unlike originally intended for the News Room, had no in-game functionality.
On the 26th of January, 2021, Polo Field updated his Twitter banner to a picture of this room.
Gallery
References
Community content is available under
CC-BY-SA
unless otherwise noted.