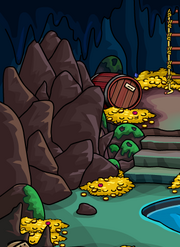 The November 2013 Tremors were a series of minor tremors that escalated, and led to the Cave Mine being closed. Only the Underground areas were damaged, unlike the earlier Earthquake in 2008.
History
It had been reported earlier in the Club Penguin Times issue 418 News Flash that there were minor tremors occurring underground. In the Ask Aunt Arctic from issue 419, Aunt Arctic responded that she had discovered that the tremors were caused by zombies cracking the ground during the Halloween Party 2013, causing rumbles in the tunnels underneath the Mine. This resulted in the tunnels collapsing on November 7 and the Cave Mine being closed indefinitely, blocked from both the Mine and the Hidden Lake.
In issue 420 of the Club Penguin Times, PH reported that after excavating the rubble, workers discovered remnants of Garianna's studies about Gold Puffles and that she was working with Gary to "figure out her notes". On November 14 the excavation ended and the Gold Mine was discovered, leading to the Quest for the Gold Puffle.
Gallery
Community content is available under
CC-BY-SA
unless otherwise noted.