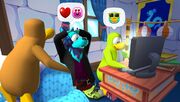 Offline Mode is a feature of Club Penguin Island that allows the game to still be played following its closure on December 20, 2018. Because the game is played offline, it can only natively be played as a single-player game and lacks various multiplayer-only features. However, through a private server, the game can be made to function online. It also features a Debug Mode.
Offline Mode has been accessible since midnight in PST on December 21, 2018.[1]
Inaccessible features
These features are not accessible in Offline Mode.
Additional features
These features are only accessible in Offline Mode.
The Data and Network directories of Debug Mode can be accessed.
The chat filter is non-existent, so any message the player sends will be displayed. Sending inappropriate messages does not result in any warnings, kicks, or bans.
If the plaque in Island Central, near the path to Beacon Boardwalk, is interacted with, it allows the player to toggle between the normal appearance of the island and its appearance during the Waddle On Party. It also allows the credits to be viewed.
Names in other languages
| Language | Name |
| --- | --- |
| Portuguese | Modo off-line |
| French | Mode hors ligne |
| Spanish | Modo sin conexión |
| German | N/A |
| Russian | N/A |
References