Currently happening
This article is about an event that is currently happening in Club Penguin Island. The article may also contain information revealing plots or hidden content.
Operation: Blackout is an Elite Penguin Force event that started on November 15, 2012 and will end on December 5, 2012. It was confirmed on Herbert's [1], Polo Field's and Billybob's Twitter accounts.[2] Polo Field also blogged about the team making sounds for November.[3] This will be the first time Herbert makes an appearance as a mascot, and it was confirmed by Polo Field on his Twitter account.
Herbert's plans are to turn Club Penguin Island into Club Herbert, capture all the top EPF agents (including G, Dot, Jet Pack Guy, Rookie and the The Director, but not PH) and blackout the sun using a high frequency infrared reversion laser in his fortress, as well as destroy the Everyday Phoning Facility, thus destroying the EPF Command Room itself. Once done, Herbert will destroy the rest of the island using the sun's energy as a weapon, and EPF Agents will have to break into his fortress and stop him. As Herbert blackens the sun, the island is experiencing a rapid increase of snowfall.
The Operation
The Operation begin at Nov. 15, 2012 and The Director of the Elite Penguin Force gave the instructions.
Stage 1
The Agents broke into Herbert's Fortress and they had to disable the Security Terminal 1.
Stage 2
On November 16, agents were given a Grappling Hook which they used to pull a lever and open the door to access Security Terminal 2 and disable it. but you need to know how to throw the grappling hook.
Stage 3
On November 18, agents are given a Plasma Laser, which they use to cut through another one of Herbert's doors and disable Security Terminal 3. Also, Herbert captured Dot and froze her along with Gary.
Stage 4
On November 20, agents will use the Deflection Vest to cross a laser security system and infiltrate Security Terminal 4. Rookie will be captured. (Even though Rookie helped Herbert once)
Stage 5
On November 22, agents will use the Smoke Goggles to see a smoke screen and infiltrate another location of the last terminal, Security Terminal 5. Jet Pack Guy will be captured.
Stage 6
On November 24, agents will use the Anti-Lava Boots to enter the Central Command Room, disable the High Frequency Infrared Reversion Laser and free all the captured agents. The Director will be captured. When the agents turn off the Solar Laser, its self-destruction will be activated.
Trivia
Billybob proved in his appearance on the Server Cloudy that Herbert will be meetable during Operation: Blackout.
In issue #365 of The Club Penguin Times, Hubert P. Enguin, or Herbert P. Bear asked how to build a high frequency infrared reversion laser which he is using to blackout Club Penguin Island.
Dot may be one of the characters because she made an appearance in the Yearbook 2011-2012, and had her own signature.
Club Penguin has been working on Operation: Blackout since August 2011.
If you visit clubherbert.com it will show you Herbert's plans.
When ClubHerbert.com came out, there was a picture of Gary and Dot, the top two on Herbert's to capture list, taped to the wall and some penguins believed that they were captured. Then a picture of Rookie was added and it was believed that he was also captured. (This rumor proved to be false due to the update of ClubHerbert.com and Rookie appeared in the Club Penguin Times Issue #368)
There was another update on ClubHerbert.com where Gary is crossed out and on the top is Dot, Rookie and Jet Pack Guy and on the right hand there a picture of Gary trapped in a tube, suggesting Dot may be kidnapped next.
There is a new stage play: My Awesome Life - The Herbert Story.
Medals may be rewards for completing the operation, just like Operation: Hibernation.
Polo Field has said that Herbert is a Mascot in Operation:Blackout (Confirmed in Twitter and the Club Penguin Blog)
During Operation: Blackout, players were not allowed to complete the test to become an EPF agent due to the fire and the blackout.
As the Operation goes on the island may get considerably snowier as seen in the preview. The snow forts will get bigger and buildings will be buried.
The Director's identity may be revealed in November 24. An information leaked revealed that the Director will be captured in this date, when we will stop Herbert's Solar Laser and we'll see the Director in one of the capsules. Also to this, Herbert updated his Club Herbert yet again with a note that says "Who is the Director?".
Even with the VR Room on fire, it can be accessed normaly with the link http://play.clubpenguin.com/?login=true&rm=213#/login/, so the room will return after the party.
Many Penguins said that the Club Penguin Island will be covered by snow lately in November 2012.
There is a glitch where you can enter the main command room and also a glitch where you can see Terminal 5
The snow from the blizzard may be used as part of the Holiday Party 2012, as previous Christmas parties have used excessive amounts of snow or also for card-jitsu snow.
Gallery
Sneak Peeks
Homepage
Login Screens
Log off Screens
Rooms
November 15, 2012 - November 17, 2012
November 18, 2012 - November 20, 2012 (Updated Rooms)
Late November 2012
Others
Videos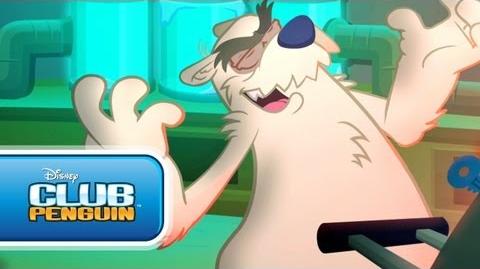 See Also
Places Changes
| Place Name | New Name | Tour Guide |
| --- | --- | --- |
| Town Center | Town Place | Welcome to Herbert says Tour... Herbert has written everything I say... because he's so Smart and Awesome. This is the Town Place. It has a statue of Herbert now. Pretty cool if you ask me |
| Coffee Shop | Coffee Store | Welcome to Coffee Store. Herbert says penguins drink too much coffee. So from now only carrot juice will be served. Free to all games to play here. But do not have fun. Fun is outlawed |
| Book Room | Newsroom | Up here is the Newsroom. Herbert says the newspaper is awesome. Now he is writing it himself. Please send him any questions you have. Because Herbert is really smart and strong...Sigh |
| Night Club | Noisy club | Here we have the Noisy club. Herbert says the music here is too loud. So loud music is now forbidden here. Please feel free to dance and mix music. But do it quietly. |
| Lounge | Video Game Room | This is the Video Game Room? Herbert says Arcades are Silly. And wast precious time that should be spent...On connocting evil plans. But if you're gonna to play anyway. Herbert recomends setting a time limit... about 35 second should do |
| Gift Shop | Shop of Gifts | Welcome to the Shop of gifts. Herbert recently improved the catalog. By posing with some of the items. 100% of the profits go to Herbert's fund |
| Dock | Dock encampment | Welcome to the Dock encament. A care center has been set up for puffles that are lost, sick or cold cause of the blackout. Please help up if you have a moment... Herbert avoids this place |
| Beach | Herbert Beach | Here we have herbert beach throught without the sun it will be hard to get tan MWAHAHAHAHA...HAHAHAHAHA...HAHAHAHA...HA! |
| Lighthouse | Lighthouse Hospital | This is the Lighthouse Hospital. We're pretty sure Herbert doesn't know that place exists. Anyone who is sick or injured can come here. Or if you need a safe place to get warm... Will this blackout never end? |
| Beacon | Giant Lightbulb | Up there is the giant lightbulb. Is actually getting more use these days... Now that Herbert stole all the sunlight. It must stay on sure no boats do not crash here. Soon I will might be the only light rest on the island. |
| Ski Village | Snow Town | Here we have the Snow Town... Pay no attention to building on fire. That's just the former base of Elite Penguin Force. It was disguised as Everyday Phoning Facility. Wait! It spells EPF too! I got that! |
| Everyday Phoning Facility | The Entrance to EPF | This WAS the entrance to EPF. But Herbert showed THEM who's the boss! Feel free to warm yourself by the fire which Herbert has graciously provided. |
| EPF Command Room | Elite Penguin Failures | Voila! This was the HQ for the Elite Penguin Failures. They tried to Stop Herbert many times. But Herbert WAS away too Smart and Strong and talented... and cool... and strong... And now they're gone MWAHAHA! |
| Ski Lodge | Herbert's Cabin | Welcome to Herbert's Cabin. Herbert originally wanted to cut it down to provided much needed campfires to everyone. But ever since he took over the island he's decided to keep as is. Isn't Herbert a nice guy? |
| Lodge Attic | Storage Room | Welcome to Storage Room. Herbert finds this place a little creepy. Like what's up with that rocking horse. It's WAY TOO BIG. Creepy |
| Ski Hill | Herbert Mountain | Here we have the top of Herbert Mountain. Herbert recently renamed this place as his own honor. It used to be called Ski Mountain. Even through no one never skis here. Herbert Mountain is a cooler name. |
| Tallest Mountain | Herbert HQ | This is Herbert HQ! Oh no! Herbert is freezing EPF Agents! We need to save them... And take down that solar laser! Hurry! The island is getting out of time |
Sources and References
SWFs
Billboards
Music
Rooms