Not the article you were looking for? Check the disambiguation page.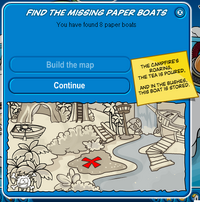 The Paper Boat Scavenger Hunt was a Scavenger Hunt in Club Penguin. It began when the Island Adventure Party 2010 started, on June 17th, and ended on June 27th.
Description
Penguins had to explore Club Penguin Island and use small hints to locate paper boats. After collecting all eight boats, Penguins had to put eight different pieces of a treasure map together in the correct places. Finally, once the penguin completed the map and scavenger hunt, they were rewarded a Treasure Cove Background. If you had the Miners Helmet, you could have gone to the Cove and drilled on the red "X", and after a while the Puffle Bandanna would be found.
Scavenger Hunt Locations
Hint: The campfire's roaring, the tea is poured, and in the bushes this boat is stored.
Location: Lower left corner of Forest.
Hint: Blue flags are flying on this sandy shore, the boat is anchored above a door.
Location: Above the Lighthouse door in the Beach.
Hint: Pirate ships battle! Cannon balls woosh! This boat's taking cover behind a bush!
Location: Near Stadium entrance in a bush in the Snow Forts.
Hint: To find this boat, you must begin, underground where mermaids swim.
Location: In Hidden Lake, above "Mermaid Cove" sign.
Hint: To find this boat without a scuffle, look to the bandana of a pirate Puffle.
Hint: To find this next boat just look up, inside a giant wooden cup.
Hint: This next boat's high up in the air, hidden near a revolving chair.
Location: In Ski Village, above Tour Booth.
Hint: This last boat's been in a tree awhile, hidden on a deserted isle.
Location: At Iceberg, at the top of the largest tree.
Gallery
See also