The Penguin Games was a special event in Club Penguin, announced in issue #147 of the Club Penguin Times, and modeled after the 2008 Olympic Games. The event lasted from August 22 to August 26, 2008, and was similar to the Sports Party. The Soccer Pitch was said to be a temporary members-only replacement for the Ice Rink; however, it remained for all players, until the Ice Rink was brought back during the Christmas Party 2008.
Events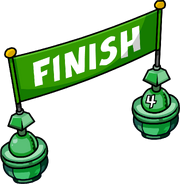 During the Penguin Games, three sport events were held throughout Club Penguin Island. Players received the Gold Medal by completing all three events.
Marathon
The Marathon featured a long run that went through the island, which started at the Ski Village and ended at the Cove. The objective of the Marathon was to get across the run and reach to the finish line. Along the run were series of lights, which the player had to turn on by stopping next to them. In order to complete the track, the players had to activate all lights.
Swimming Event
The Swimming Event was held at the Cave. The objective of the event was to swim three laps in the Cave's pool.
Three Lap Race
The Three Lap Race event was held at the Iceberg. The objective of the event was to run in a track for three laps around the Iceberg.
Free items and awards
Trivia
Gallery
Issue #147
Issue #148
Issue #149
Rooms
SWF
Music