Cleanup
This page needs a cleanup. You can help by cleaning it up (i.e., fixing coding, correcting spelling and grammar, etc). Please make sure it meets the Manual of Style guidelines.

The Penguin Secret Agency, more commonly known as the P.S.A., is Club Penguin's spy association that helps keep Club Penguin safe. The P.S.A ran from October 24th 2005 - May 17th 2010, because in Mission 11, Herbert P. Bear destroyed the P.S.A Headquarters with a popcorn time bomb. It is unknown what will happen to agents.[1] The P.S.A.'s headquarters is known as the Spy Headquarters, or the H.Q. The F.I.S.H. is their official spy handbook. You can become a Secret Agent after your penguin has spent over 30 days in the game, by clicking on the (M) symbol at the top right hand corner of the game and answering a quiz. The Director of the P.S.A. has an unknown identity, but you can see a message from him\her in The F.I.S.H.(Factual Informative Spy Handbook). The director's signature is the very last symbol of the tic tac toe code (after z, not the z) It is rumored that the Director of the P.S.A. is also the founder of the agency. Very little is known about him/her. G is his/her right-hand man who provides all the gadgets, and also provides all the missions for the Secret Agents.
Following a massive popcorn incident regarding Herbert P. Bear, the PSA was dissolved and merged into the Elite Penguin Force.
Motto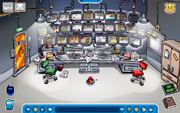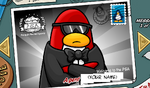 "
"Be resourceful, be remarkable, be ready."
"
 

— PSA
Members
There are four well known members that are re-appearing agents in Secret Missions.
Suspects at large
According to The F.I.S.H., there are two main suspects in secret missions.
Trivia
When you buy the Nintendo DS game, Club Penguin: Elite Penguin Force, you will be able to get into the Command Room.
The agency is not as secret a Gary the gadget guy proposes, infact nearly all penguins know about it.
The original headquarters looked very much like the Boiler Room in Penguin Chat 3.
Members of the PSA now get paid 250 coins through Penguin Mail, via the salary update.
Many penguins think Aunt Arctic is the Director of the P.S.A..
Old agents weren't welcomed with the welcome agent mail because they registered before Penguin Mail was introduced.
There are rumors about the PSA associated with Sensei or Ninjas because:

There's a Card-Jitsu card that introduces the Boombox and when someone uses it, the door of the Gadget Room will appear.
Because on the screens of the HQ, some ninjas appeared in November 2008 saying: "We don't even exist!".

The PSA is similar to M15 of the UK and the FBI of the USA.
When emailed about the future of the PSA, this was the reply:
"
Greetings Agent,

Thank you for your transcript, we have been expecting you. You are a fine agent, a true asset the force.

Everything is crazy at the moment! Who would have thought Herbert could cause so much disruption. I am afraid no-one is quite sure what is going to happen yet, the chief penguins are discussing the situation as I write this. What do you think should happen to the PSA?

Don't forget to check the 'What's New' blog for all the fun events that are coming up soon on Club Penguin Island.

Have you seen the Ski Village today? I think I have doubled my size in popcorn, it is just so yummy!

If there is anything else we can do please get in contact and we will be more than happy to help.

Remember keep your peepers peeled and your flippers crossed because you never know what might happen next.

Waddle On,

Lucas Club Penguin Support

"
See also
Sources and references