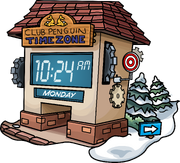 Penguin Standard Time (commonly known as PST) is the time zone used in Club Penguin and Club Penguin Island, and is equivalent to real world Pacific Standard Time, which has the same abbreviation. As Penguin Standard Time is universal and is shown regardless of what real world timezone a player is in, it is useful for coordinating events or meetings with other players at a certain time.
In Club Penguin, PST was displayed on the Clock Tower at the Snow Forts and many other clocks in the game. In Club Penguin Island, it is displayed on the CPI Phone and Crate Co. clock tower.
Clocks that display PST
Club Penguin
Club Penguin Island
Trivia
The reason why the time zone is PST is because Disney Canada's headquarters are located in British Columbia which uses PST.
The Mission 7 Medal, despite featuring a clock, instead displayed the current time of the player's computer, rather than PST.
Gallery
See also
Community content is available under
CC-BY-SA
unless otherwise noted.