Currently happening
This article is about an event that is currently happening in Club Penguin Island. The article may also contain information revealing plots or hidden content.
"
Battle crabs for loot!
"
 

— The tagline for the party

[2]
The Pirate Party 2014 is a party in Club Penguin, occuring from November 20 to December 3, 2014.[3]
The party has a pirate theme, and its main feature allows penguins to duel with one another or Pirate Crabs to collect "pirate party coins" for experience they can use to collect different swords. In addition, members can also unlock new items each day through the interface.[4]
Story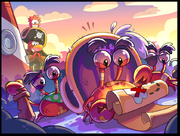 A group of crabs living on Swashbuckler Trading Post boarded Rockhopper's ship after the aforementioned pirate had told them about his journeys and his home.[5] Once on board, the crabs eventually "took over" Rockhopper's ship; painting the sail with a crab and standing aggressively at the front.[6]
After sailing for several weeks and crashing the Migrator on to the shores of Club Penguin,[7] the pirate crabs began rounding up precious treasures that Rockhopper had gathered over the years.[8] Rockhopper then begins recruiting penguins to help him stop the pirate crabs from burying his treasure; sending them to do battle with them and regather up the remaining loot.
Free Items
Quest rewards
Main article: Pirate Party 2014 interface
Trivia
Glitches
While wearing any sword, if you press 'D' and click on the wall without any duel, you can walk on walls.
Gallery
Sneak Peeks
Party billboards and wallpapers
Club Penguin Times
Emotes
Rockhopper's dialogue
Party Rooms
Others
Rockhopper Sightings
Pirate's life for me!
Thar be hidden treasure
Where be the scallywag crabs?
That be part of the pirates code
It be a duel!
Pirate Parade!
Gangway mateys!
Those be scurvy crabs
Join Rockhopper's crew!
Savvy?
| Question | Answer |
| --- | --- |
| What is a pirate's favorite dessert? | Peach cobblARRRRR! |
| What do you get when you cross... | a pirate with a zucchini? |
| Know any good pirate jokes? | Neither do ayyyyyy! |
| What happened when Redbeard... | fell into the Blue Sea? |
| What do pirates wear in the winter? | Long Johns! |
| What grades did the pirate get in school? | High Seas! |
| What did the pirate say... | when he crashed on the iceberg? |
| How does a pirate clean his ship? | He has a Yarrrrrrrrd sale! |
Room
Tour Guide
Beach
Arrr welcome to the Beach
It be the restin' place o' the Migrator
Ye can search for treasure...
or salvage parts fer yer own ship!
Cove
Avast it be the Lost Lagoon!
It be a place of mystery and merguins...
rumored to hold treasure...
and the best surfin'
Dock
Avast it be the Buccaneer Bistro!
Grab a mug o' cream soda...
and sing a sea shanty!
Watch out for duelin' pirates!
Forest
It be the Jungle Ruins!
Thar be myths about this place...
some say thar be treasure...
that be guarded by a gray puffle
The Plaza
This be the Lost Crew Plaza...
built by marooned sailors
They be doin' fine here...
they even be havin' a Pizza Parlor!
Town Center
Arrrr!
This be the place for shore leave!
It be the Town
Do a jig at the Dance Club...
or grab a bandana at the Clothes Shop!
Music
Taken from the official Club Penguin SoundCloud account.[14] All rights go to them.
Names in other languages
| Language | Name | Meaning |
| --- | --- | --- |
| Portuguese | Festa Pirata[15] | Pirate Party |
| French | Fête Pirate[16] | Pirate Party |
| Spanish | Fiesta Pirata[17] | Pirate Party |
| German | Piratenparty[18] | Pirate Party |
| Russian | Пиратский Праздник[19] | Pirate Party |
Sources and references
See also