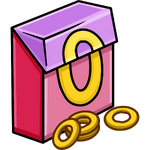 Puffle Food was a special food that could be eaten by puffles. It was sold in the Puffle Catalog and could be obtained from Puffle Digging, while only food from the catalog was available to all players. The cheapest and most efficient way to feed your Puffle was to not give it anything if the food bar was not at least in half, but give it one apple if the food bar was between half and 1/4 full, and if that bar was 1/4 full or under, then give it two instead of one.
History
Uses
While many puffles loved cookies, cookies do little good. Instead, you had to feed it apples, carrots, and every now and then Puffle O's.
If you were in a hurry, you should try apples. It was cheap and did little effect on other stats.
List of items
Items from the Puffle Snack Station
Trivia
While Puffle Food was being bought, it was automatically sent to the Puffle inventory.
Puffles could dig special foods that would bring all of the requirements for a puffle to be happy.
Every puffle had different favorite food, and each puffle also preferred a different variety of puffle food items than other puffles.
If a Puffle ate its favorite food, all of its stats instantly went up to max.
See also
Community content is available under
CC-BY-SA
unless otherwise noted.