This article is about hats for Puffles. For the penguin hat, see Puffle Hat (item).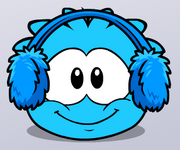 Puffle Hats are head items that only puffles can wear. They were first released on October 4, 2011. The first puffle hats were available for members only, but later several were available for all players.
Puffle Hats
Main article: List of Puffle Hats
Trivia
When a puffle wearing a hat plays with puffle furniture its hat will disappear.

The puffles art style will also change back to the old art style.

When a puffle wearing a hat does any type of activity its hat will disappear.

However, it reappears after the activity is over.
Sometimes, there is a glitch where the hat will not reappear after the activity is done, but will reappear when you enter a new room.

Penguins with an expired membership are still able to use the member-only puffle hats they bought while they had their membership.
The Mini Polka Dot Puffle Hat is the first free puffle hat for non-members.
If you put a hat on one of your puffles and then transform into it during a Puffle Party you lose the hat.
There are many Puffle Hats seen in early concept images from the Beta Team that were not ever released. They include hats similar to the Roman Helmet, Straw Gardening Hat, Red and Yellow Stripey Hat, Black Graduation Cap, Pilot Cap, Goalie Helmet, and Puffle Hat. A few others that do not resemble items in Club Penguin include a bonnet and cowboy hat.
If a puffle returns to the wild while it is wearing a hat, the hat is lost.
Gallery