Cleanup
This page needs a cleanup. You can help by cleaning it up (i.e., fixing coding, correcting spelling and grammar, etc). Please make sure it meets the Manual of Style guidelines.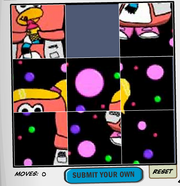 Puzzle Shuffle is a game that appears in the Club Penguin Times. It is a lot like a shuffle card where there is one card that is left empty. Some issues have a fan art picture and you need to put the pieces together to make the picture.
Trivia
Many penguins get confused with Puffle Shuffles' name and Puzzle Shuffles' name.
The pictures used are from users who sent in their artwork.
It is the most common puzzle in The Club Penguin Times.
The most recent time it was in The Club Penguin Times was Issue:248,July 22nd 2010.
See also
Community content is available under
CC-BY-SA
unless otherwise noted.