This Article is Out of Date
This article needs to be updated. One or more events have happened, and are not included.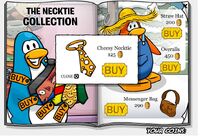 Secret Items were items hidden within a given issue of a catalog, that may only be displayed and available to purchase by performing certain tasks. Most hidden items require clicking specific objects on a certain page, though they may be hidden in more complex methods.
Since April 2012, hovering over the object on the catalog page that "hides" the item makes that object sparkle, and clicking it reveals a popup window with the hidden item(s) with a title reading "You found a Secret!", with a sound effect being played. Before that, no sparkle effect had been used, and the popup window was more basic.
Secret items by catalogs
Penguin Style
Main article: List of Secret Items in the Penguin Style
Furniture Catalog
Main article: List of Secret Items in the Furniture Catalog
Puffle Catalog
Snow and Sports
Game Upgrades
Costume Trunk
Rockhopper's Rare Items
The F.I.S.H.
Igloo Upgrades
Martial Artworks
Big Wigs
Adopt A Puffle
Music Catalog
Special catalogs
Trivia
Since the introduction of the pigfarm mechanism, which creates catalog pages from raster images rather than .swf files with vector shapes, catalogs that use this mechanism (such as Penguin Style) no longer have secret items in them.
Gallery
Community content is available under
CC-BY-SA
unless otherwise noted.