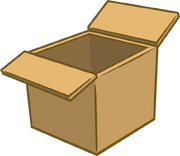 The Silly Scavenger Hunt was a scavenger hunt in Club Penguin that occurred during both the April Fools' Party 2011 and only members could hunt for the items. This was the first members-only scavenger hunt.
How to solve it
Clue 1: Start where, orange puffles go, in a room with purple glow.
Answer: Box Dimension (in the middle of the room).
Clue 2: Continue the search, among the sand, where red mountains frame the land.
Answer: Desert Dimension (behind the canyon).
Clue 3: This blank page holds much potential. Your imagination is essential!
Answer: Doodle Dimension (click on the gigantic blue pencil and it will draw a box).
Clue 4: If you find yourself next to Mars... find something hidden in the stars.
Answer: Space Dimension (connect the stars in the sky).
Clue 5: The stage is just the thing. To find a clue fit for a king.
Answer: A Silly Place (on the pad).
Clue 6: Finding this one will turn you around. In a room where up is down.
Answer: Stair Dimension (in the middle of the tiles).
Clue 7: To free this piece you'll need a clue: Find your way through bright pink brew.
Answer: Cream Soda Dimension (you'll need to find the correct barrel to enter, after that press the button).
Clue 8: This Scavenger Hunt is extreme! Find this piece by a chocolate stream.
Answer: Candy Dimension (click on the gigantic spoon in the middle of the ice cream scoops).
PRIZE: Box Costume (only for members).
Community content is available under
CC-BY-SA
unless otherwise noted.