SoundStudio

Information
Players
1
Controls
Mouse
Minigame location
Night Club
Igloos
Date released
July 17, 2014
Date closed
March 30, 2017
SoundStudio was a mini-game in Club Penguin. It was released on July 17, 2014 at the beginning of the Music Jam 2014, and was later kept on the Night Club, replacing DJ3K.
How it works
On the Main Menu there were 3 options. Two of which were for non-members and above, and 1 option for members.
The first for both was "Make Music". This option allowed you to get to the actual game.
The second for both again was "Instructions". This would most likely tell you how to work the game, if you are not reading this article.
The final option for members only was "Saved Tracks". This option showed you all the tracks you have saved with your membership privileges.
On the right, there was a sidebar, showing all the tracks you have shared. These tracks would be played in the Dance Club for other players to listen to.
Gameplay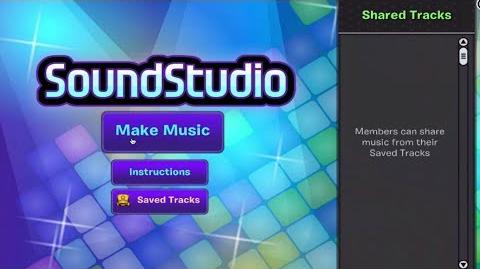 When clicking the option 'Make Music' an interface appeared. This was where you could create your
music
. At the left hand side there was a side bar. You could choose different genres of music here. The genres were as follows: Pop, Rock, Dance, Dubstep and Spooky.
Members
could also record their music, which could be found in the 'Saved Tracks' option in the Main Menu.
Members
could record their track up to 3 minutes long. You could see where about your track's current duration was, at the top of the screen. When clicking on a genre, two groups of music appeared. 'Loops' and 'One-Shots'. When clicking on a loop, the music it was playing would carry on playing, and looping until switched to a different loop, or turned off. When clicking on a one-shot, it would play its small duration, then finish. When a
member
had finished recording, they could click the Stop button, and share their tracks. These tracks would be heard in the
Dance Club
to everyone in the room, as stated above.
Trivia
It was first revealed on Club Penguin Magazine issue #32, which ended up getting the release date (July 10 vs July 17) wrong. As soon as the issue went to print, the date had to be postponed to have more time for development.[1]
You were able to share your beats with other penguins at the Dance Club to enjoy, and at your igloo, unlike DJ3K, where you could only listen in your igloo.

You could also play your SoundStudio tracks in your igloo.
The shared music that was created by penguins replaced the original Dance Club music.

A sneak peek video of SoundStudio was given to bloggers if they emailed the support team asking for it.
Similar to how DJ3K was added the same day the Music Jam 2008 started, SoundStudio was added the same day the Music Jam 2014 started.
It was able to be played in some rooms on the Music Cruise.
From an in-universe point of view, Best Day Ever was recorded in this game.
Many penguins would constantly use the "toot" sound as their song to annoy players.
As confirmed in The Club Penguin Times issue #458, the Herbert and Protobot sounds were Dot's recordings.
On October 16, 2014, a new album called "Spooky" was released to commemorate Halloween Party 2014.
The former SoundStudio App was released during the SoundStudio Party. It was first confirmed in issue #482 of the Club Penguin Times.[2]
During the Star Wars Rebels Takeover, whenever you finished making the music and typed something in the filter, sound effects related to the party would play for a short time (ex. Lightsaber slashes, TIE Fighters, etc.).
Non-members could still share music they created if one was being shared when their membership expired.
On July 6, 2016, a playlist function was added, allowing players to know in what position of the queue their music were to be shared.
Glitches
It was accidentally deleted during the first hours of the Frozen Party, when it was supposed to be there. This glitch was later fixed.
There was a glitch where when you left SoundStudio, Club Penguin graphics became very low-quality. The only way to fix it was to log off and log back on. This glitch was later fixed.
Gallery
Names in other languages
| Language | Name |
| --- | --- |
| Portuguese | SoundStudio |
| French | StudioMix |
| Spanish | SuperDJ |
| German | Tonstudio |
| Russian | Студия звукозаписи |
SWF
References
Community content is available under
CC-BY-SA
unless otherwise noted.