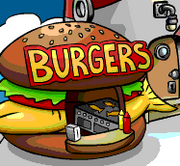 A Stall (also known as Stand or Chip-Stand) is a building that represents a stall selling items at a party. These stalls, however, do not sell any items, as all items in Club Penguin are permanent and are usually clothing items. Therefore, if there was a burger store, it wouldn't sell any burgers, so penguins sometimes "pretend" and fictitiously act out selling them or buying them. Although an exception was when the ice cream stall was available ice cream aprons were given away, allowing penguins to hold up a pink ice cream while wearing the apron. There have been ice cream stalls, pizza stalls, burger stalls, slushy stalls, taco stalls and many more. Only some parties have stalls. However, some stalls aren't intentionally used for selling items, much like the Tour Booth, which allows a Penguin to gain Tour Guide status.
List of Stalls
Fish Dog's
Churro's
Taco's
Ice Cream
Chip's
Save The Migrator
Ground Coffee
Trivia
Many food stalls are at the Beach, situated next to the Lighthouse.
The Tour Booth is also a stall for the Tour Guides.
At the Burgers stand they use Fluffy the Fish meat.
There was once a SAVE THE MIGRATOR stall when the Migrator sunk after hitting an iceberg.
Community content is available under
CC-BY-SA
unless otherwise noted.