The Inventor's Apprentice

Information
Date released
March 19, 2009
Unlocks items?
Yes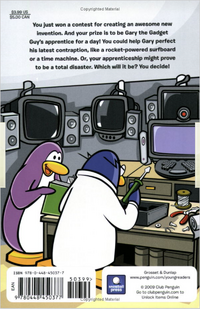 The Inventor's Apprentice is a real-life Club Penguin franchise book by the author, Tracy West. It is the second Pick Your Path adventure book.
Overview
The book has no correct plot to it due to the fact that it is a Pick Your Path book. The story starts off when you are playing a game of Mancala with your friend when you get a postcard saying you won a contest. You follow a riddle and find Gary's Workshop.
Trivia
Gary wears a yellow tie instead of a brown one in this book.
In one ending, the prototype sled is mentioned.
The book title is parody of The Sorcerer's Apprentice.
If you flip all the pages super fast, the animation on the upper-left corner will look like a movement of a screwdriver, and the bottom right hand corner is with Gary flying off in his jetpack, but ends up losing it.
There are 17 possible endings.
The Winter Luau is mentioned in this book.
It is the second book in the Pick Your Path Series.
Characters