Tour Guide


A tour guide standing at the tour booth

Information
Full Name
Tour Guide
Species
Penguin
Position
Tour Guide
Appeared
Club Penguin
Color
Any
Clothes Items
Tour Guide Hat
Related To
None
Friends With
None
Meetable Character?
No
Were you looking for the Club Penguin moderator with the same name?
The Tour Guide project began on January 26, 2007,[1] with the intent of helping newcomers find their way around Club Penguin. To take the quiz to become a tour guide, players must be at least 45 days old.
While wearing the Tour Guide Hat, players can use a pre-written message that summarizes the room they are in. This can be done by opening the safe chat menu, then mousing over "Activities" and clicking "Give a tour".
Tour Guide quiz
The quiz can be accessed from the Tour Booth at the Ski Village. From here, the player is prompted to take an eight-question quiz on their knowledge of Club Penguin. If at least seven are answered correctly, the player receives the Tour Guide Hat. If not, the quiz can be taken again until it is passed.
Eight of the following questions are presented in a random order. Correct answers are underlined . Some of the answers became inaccurate due to various changes in the game, but were not updated to reflect these changes, and are still counted as correct.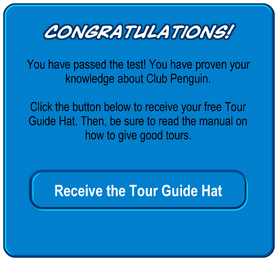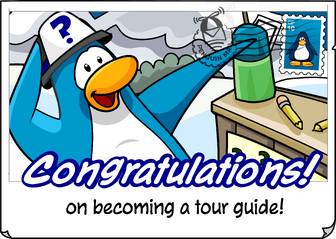 The following question was originally present, but was removed sometime in mid-2008.
Trivia
Gallery
SWF
References